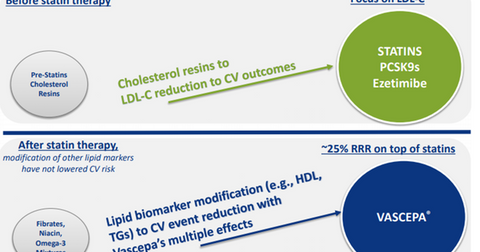 Vascepa May Prove a Solid Growth Driver for Amarin Corporation
By Margaret Patrick

Updated
Vascepa's growth opportunity
As per Amarin's (AMRN) investor presentation, the company aims to position Vascepa as a new treatment paradigm in the cardiovascular space. The drug's growth potential can be estimated based on the revenue reported and the patients treated by other preventive care drugs in the cardiovascular space.
Amarin estimates that 38 million people in the United States are currently being treated with statin therapies mainly to control cholesterol. The company has projected the annual revenue potential of statins to be $34 billion before the introduction of generic therapies. The best-selling statin therapy, Pfizer's (PFE) Lipitor, managed to earn almost $12 billion annually before the launch of its generic version.
According to Jefferies analyst Matthew Andrews, peak sales of Vascepa in the US market could be $1.06 billion by the end of 2030. Cantor analyst Louise Chen has estimated peak sales of Vascepa to be $1.1 billion.
Article continues below advertisement
Amarin demonstrated a 25% relative risk reduction (or RRR) in major adverse cardiac events for Vascepa in the REDUCE-IT trial in patients with well-controlled cholesterol levels and on statin therapy. The drug's performance was significantly better than the targeted RRR of 15%. In this context, Vascepa is well positioned to become a solid add-on therapy to statins for addressing cardiovascular risk beyond cholesterol management.
Improving financials
Vascepa is currently approved by the FDA for the treatment of patients with triglyceride levels of more than 500 mg/dL (milligrams per deciliter). According to Amarin at the Cantor Global Healthcare Brokers Conference, this indication is more associated with pancreatitis than with cardiovascular disease. The positive data from the REDUCE-IT trial could translate to a major label expansion for Vascepa with huge revenue potential.
Wall Street analysts expect Amarin to report revenue of $229.23 million in 2018, a YoY (year-over-year) rise of 26.57%. Its revenue is expected to rise even faster in subsequent years. Amarin is expected to witness YoY revenue rises of 84.27% and 57.11% in 2019 and 2020, respectively.
In the next article, we'll discuss Vascepa's addressable market opportunity in more detail.