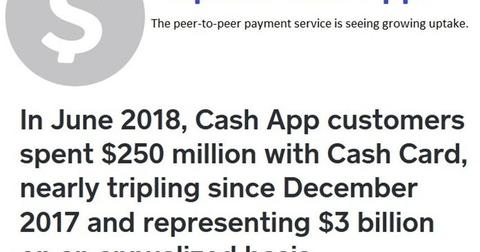 Square Is Building Cash App into a Standout Product
By Neha Gupta

Oct. 17 2018, Published 9:28 a.m. ET
Spending with Cash Card tripled
As Square (SQ) gears up to report its third-quarter results, the company is considering extending its Cash App service beyond its peer-to-peer payment roots by building it into a financial app for everyday use—a dream PayPal (PYPL) also has for its Venmo service. Cash App had attracted more than 7.0 million monthly users as of December 2017.
In addition to supporting money transfers between family and friends, Cash App also lets users withdraw their balances from ATMs using an associated debit card known as Cash Card. When it released its second-quarter results in August, Square noted that customers had spent $250 million with their Cash Cards in June alone, meaning that spending with Cash Card had nearly tripled from six months earlier.
Article continues below advertisement
Over $200 million in Cash App balances
People are holding large balances in their Cash App accounts—more than $200 million—prompting Square to think of other services it could offer Cash App users. While speaking at Recode's annual Code Commerce conference last month, Square's outgoing CFO, Sarah Friar, repeated that the company had looked at building Cash App into more of a bank account, meaning that people could use the app to access savings and investment products.
Cash App already lets its users buy and sell Bitcoin for a profit as part of its investment offerings.
Diversifying to tackle the competition
As more companies enter the peer-to-peer payments market, Square is betting on expanding and diversifying Cash App to make the service stand out from the competition.
Besides PayPal, Apple, Google (GOOGL), and Facebook (FB) are some other companies vying for a piece of the peer-to-peer payment market. Facebook has built a payment service into its Messenger app, while Google has recently expanded its Google Pay service in India. Snap (SNAP) used to be a competitor, but it decided to shut down its Snapcash service in August.