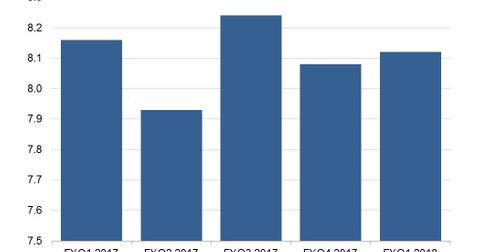 Sprint: Making 5G Phones and Surviving the Competition
By Ruchi Gupta

Oct. 10 2018, Updated 8:00 a.m. ET
Sprint building a unique 5G phone
Sprint (S) noted in August that it was working with LG Electronics to build a 5G smartphone that should be ready for launch in the first half of 2019. On September 21, the company shed more light on its 5G phone project, saying that it's building a distinctive handset that's immediately recognizable as a 5G phone.
Qualcomm, a leading supplier to handset makers, noted that 5G-enabled consumer phones could start arriving in early 2019.
Article continues below advertisement
Sprint pegs future to the success of T-Mobile deal
Sprint (S) plans to offer 5G services in 2019, with an initial target launch in nine metro markets. Verizon's (VZ) 5G service for residential customers launched on October 1. T-Mobile (TMUS) and AT&T (T) are also racing toward their respective 5G service launches, with AT&T aiming to offer 5G services in up to a dozen markets before the end of the year.
However, Sprint has recently cast doubt on its ability to compete with its main rivals in 5G and other areas of wireless business. In a regulatory filing cited by Bloomberg, Sprint told the FCC[1. Federal Communications Commission] *that it was bleeding cash. It also told the FCC that it is short of the low-band spectrum needed to expand its 5G service to rural areas.
Sprint told regulators that it needs the T-Mobile deal to go through to maintain its business's sustainability. In April, T-Mobile and Sprint agreed to combine in a deal valued at more than $26.0 billion.
Dish opposes the T-Mobile–Sprint deal
While Verizon and AT&T have mostly avoided challenging the deal, Dish Network (DISH) and Altice USA are opposed to it. Dish, which is building a wireless network, has asked regulators to prevent T-Mobile and Sprint from combining even as Sprint suggests that its future depends on the deal succeeding.
Sprint made $8.1 billion in revenues in the June quarter, down about 0.4% YoY (year-over-year). Verizon and T-Mobile grew their revenues by 5.4% and 3.5% YoY, respectively, in that period. AT&T's revenue fell 2.1% YoY in the June quarter.