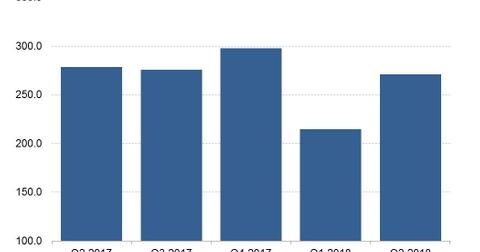 Pandora Highlights the Wisdom behind Its AdsWizz Purchase
By Ruchi Gupta

Updated
Pandora to handle ad sales for SoundCloud
Pandora (P) has recently inked a deal to handle US advertising sales for music-sharing service SoundCloud. The agreement highlights the wisdom behind Pandora's decision to buy AdsWizz, a leading global provider of audio advertising solutions. Pandora paid $145 million for AdsWizz in a transaction that closed in May.
Pandora bought AdsWizz to enable it to serve targeted audio advertisements on both its own platform and third-party platforms such as SoundCloud.
Pandora did not reveal the financial details of the SoundCloud deal, but it no doubt represents a win for Pandora's advertising technology business only a few months after it took hold of AdsWizz.
Article continues below advertisement
Pandora's advertising revenue fell 2.6%
AdsWizz used to handle ad placements for Spotify (SPOT), but Spotify terminated the arrangement after Pandora bought the business. Pandora and Spotify are bitter rivals in the music-streaming business. They both sell subscriptions and ad-supported streaming music services.
Pandora's advertising revenue fell 2.6% year-over-year to $271.1 million in the second quarter.
Race for partnerships
Pandora is being acquired by Sirius XM Holdings (SIRI), a transaction that could ratchet up the competition between Pandora and Spotify. Both Pandora and Spotify have recently taken to partnering to grow their customer bases and hopefully their revenue. They both have distribution agreements with AT&T (T), whose wireless network serves ~147.3 million customers across the United States.
Spotify has also partnered with Samsung (SSNLF) to be the default music app on Samsung devices. By being part of Sirius XM, Pandora may win more partners, as Sirius XM has partnership arrangements with leading automakers such as Ford Motor Company and General Motors.