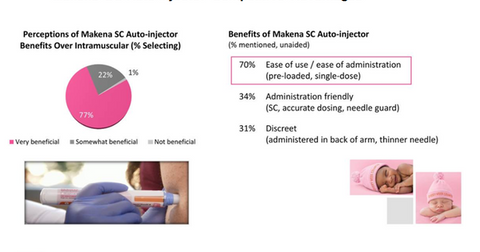 Makena Auto Injector Is a Key Asset for Antares Pharma in 2018
By Margaret Patrick

Oct. 5 2018, Updated 6:31 a.m. ET
Makena auto injector
In H1 2018, Antares Pharma (ATRS) reported revenues of $6.7 million from its Makena product. In Q2 2018, partner Amag Pharmaceuticals (AMAG) reported revenues of $105.2 million for Makena, which is a year-over-year (or YoY) rise of 2.43%. According to Antares Pharma's Q2 2018 conference call, this growth was driven mainly by the increased overall uptake of the product coupled with the launch of the Makena auto injector in the US market in March 2018.
As per AMAG Pharmaceuticals' estimates based on distributor dispensing data and physician market research data from its investor presentation, Makena accounted for a 51% share of the total market for preventing pre-term birth in at-risk women.
According to AMAG Pharmaceuticals' investor presentation, 60% of the new enrollments in the Makena Care Connection Program were for the subcutaneous auto injector version of the drug. Based on this data, AMAG Pharmaceuticals expects to further increase adoption of the Makena auto injector.
Article continues below advertisement
At the end of June 30, the subcutaneous version of the drug was on the market for around 13 weeks. AMAG Pharmaceuticals has estimated that 14–16 weeks will be required to create awareness among physicians about the product. Once prescribed, a patient remains on therapy for 14 weeks. Thus, Antares Pharma expects to see significant demand for the product in the coming quarters. The increase in sales of the Makena auto injector, which uses Antares Pharma's QuickShot device, will likely translate into higher revenues for Antares Pharma in 2018.
Generic erosion trends
In June 2018, Luitpold Pharmaceuticals secured FDA approval for its abbreviated new drug application (or ANDA) for the generic version of Makena intra-muscular injection. According to the investor presentation, this drug is priced at a 15% discount to the wholesale acquisition cost (or WAC) of Makena. To protect its Makena franchise from generic erosion, AMAG Pharmaceuticals is focused on switching patients from intramuscular Makena to subcutaneous Makena, a move that will likely be beneficial for Antares Pharma in the long run.