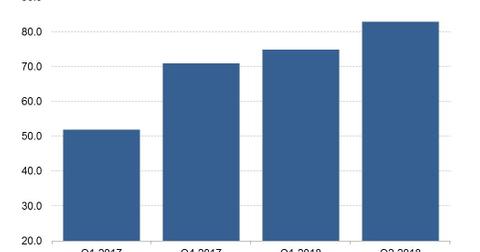 Is Spotify's Family Plan Ready for a Shake-Up?
By Ruchi Gupta

Updated
Spotify family plan costs $15 per month
For a period last month, Spotify (SPOT) was contacting some customers on its family plan to confirm their residential addresses. Spotify's policy requires that those on its premium family plan live at the same address. The company has warned that those who fail to confirm their residential address through GPS data could lose access to the family plan.
Spotify Premium for Family is a discount plan that costs $15 per month and accommodates up to five people sharing the same password. A premium Spotify individual account costs $10 per month. Apple and Pandora (P) also offer individual and family plans that cost $10 per month and $15 per month, respectively.
Article continues below advertisement
Loophole for revenue loss
But family plans create a loophole for potential revenue loss for the companies providing the services. People without family ties can sign up for family accounts to save on service subscriptions. According to a report published by Billboard, as many as half of the people paying for streaming services such as Spotify, Apple Music, and Pandora favor family plans over individual plans.
Spotify rival Pandora has agreed to sell itself to Sirius XM Holdings (SIRI) in a deal valued at $3.5 billion.
Spotify exited the second quarter with 83 million paying subscribers.
Spotify's ARPU fell 12%
It's unclear whether the requirement that people confirm their residential details signals that Spotify may want to start enforcing its family plan policy more strictly. Doing so could help Spotify improve its ARPU (average revenue per user), meaning that the company could make more money from its existing customer base. Spotify's ARPU fell 12% year-over-year to ~$5.63 in the second quarter.
Facebook (FB) and Snap (SNAP), which—like Spotify—offer video and music streaming through their social media platforms, reported ARPU of $5.97 and $1.40, respectively, in the second quarter.