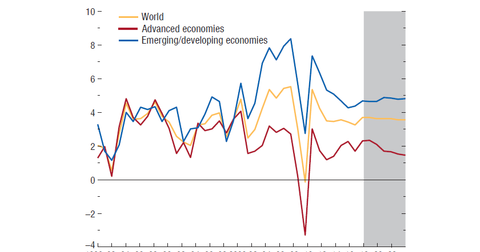 IMF Downgraded Global Growth Outlook due to Trade Tensions
By Anuradha Garg

Updated
IMF downgrades growth outlook
The International Monetary Fund (or IMF) cut its estimates for global growth for this year and for 2019, citing trade tensions between the US and its trading partners. It now estimates the global growth will come in at 3.7% in 2018 as compared to its previous estimate of 3.9%. The "World Economic Outlook" report is published twice a year, in April and October. It contends that the disruption due to trade tensions could be particularly large in the US (SPY) and China (MCHI).
US and China to be particularly affected
The IMF expects the growth in the US (VTI) to peak at 2.9% in 2018 and soften to 2.5% in 2019. The projection for 2019 is a downward revision of 0.2 percentage points due mainly to the rising trade tensions. The IMF also expects China's growth to moderate to 6.2% in 2019 and 6.6% in 2018 from 6.9% in 2017. The growth for 2019 has been downgraded by 0.2 percentage points due to the negative effect of tariffs.
Derailing of expansion
The IMF also cited "sudden tightening of financial conditions," which it believes could expose the vulnerabilities of countries, especially emerging markets (EEM), and derail expansion. The growth forecast downgrades were most notable for Argentina, Brazil, Iran, and Turkey.
Many market participants have echoed IMF's concerns in the past. The increasing trade tensions could have a direct as well as ripple effect across a vast range of assets and economies. This uncertainty and lower growth scenario, if it materializes, would be beneficial for gold (GLD) and other precious metals (SLV). Moreover, if the Fed decides to go slow on rate hikes due to growth concerns, gold could stand to benefit.