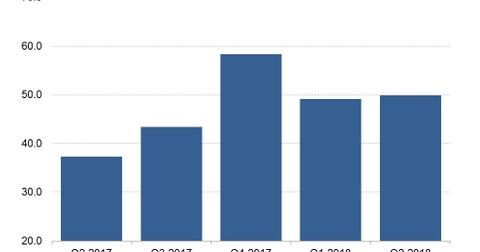 How Will the Starting Wage Hike Impact Amazon?
By Neha Gupta

Updated
Expenses soared 33.8%
Amazon (AMZN) is boosting the starting wage for its US employees to $15 an hour. Those who already earn $15 an hour or more are also in line for a raise. About 250,000 current employees and some 100,000 seasonal workers are expected to benefit from the pay hike, which will take effect on November 1.
Rising wages usually drive up costs, and that's an impact Amazon is expected to feel as it lifts the starting pay rates for hundreds of thousands of employees. Amazon's expenses, including what it pays its workers, rose 33.8% YoY (year-over-year) to $49.9 billion in the second quarter.
Article continues below advertisement
Gaining goodwill with workers
Amazon may be hoping that the benefit of boosting its workers' pay will outweigh the additional costs it will have to carry. The company has been criticized for allegedly underpaying its employees, and attacks on its employment practices aren't great for its image. Raising wages for its employees could help the company reduce the risk to its corporate image and allow it the peace of mind to focus on what's important: serving customers and creating value for shareholders.
The goodwill that the wage hike creates with employees may also help Amazon get the best out of its workforce.
Surviving the tight labor market
There's also the issue of the tight labor market. Amazon's rival Target (TGT) is in the process of hiring as many as 120,000 seasonal workers for the busy holiday period. Logistics companies FedEx (FDX) and United Parcel Service (UPS) are also looking to add as many as 55,000 and 100,000 seasonal workers, respectively. During a period of low unemployment such as this one, it can be difficult for companies to fill entry-level positions without promising better starting wages.
Retailers typically hire more workers during the holiday period to meet workforce needs in various departments. Like Amazon, Walmart (WMT) and Target are in the process of boosting starting wages for their workers.