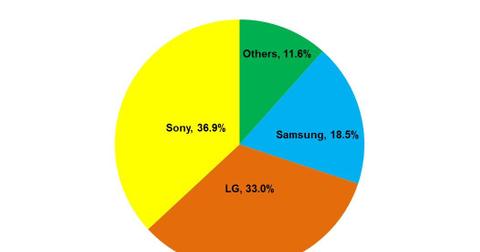 How Samsung's Patent Fight with MPEG LA Ended
By Ruchi Gupta

Updated
Appeals court sides with Samsung
Samsung (SSNLF) will not need to pay $115 million for terminating patent contracts with patent group MPEG LA.
MPEG LA manages a pool of patents, including patents used in television sets. It entered into some contracts with Samsung that Samsung later decided to end. But MPEG LA took issue with the way Samsung terminated those contracts and sued the company in 2015, accusing it of improper termination.
MPEG LA wanted Samsung to pay it for the alleged violations. In January, it won a judgment allowing it to claim $115 million from Samsung. But Samsung appealed, and last month the New York Court of Appeals decided in its favor, overturning the judgment that had penalized it $115 million.
Article continues below advertisement
Television is a small business for Samsung
Samsung makes money from a variety of sources, and television sets are one of its income streams. But television manufacturing is a small business for the company, accounting for less than 3.0% of its overall profit. The bulk of Samsung's profit comes from the semiconductor and mobile phone businesses.
Samsung held 18.5% of the global premium television market in terms of revenue at the end of 2017, according to IHS Markit, compared to the 33% market share held by LG Electronics and the 36.9% market share held by Sony (SNE).
Samsung is vying for 5G equipment expenditure
Samsung is also in the business of supplying telecommunications network equipment, and it has been trying to make inroads in the United States, where operators are currently developing 5G networks. Verizon (VZ), which recently launched 5G residential services in several US markets, picked Samsung as a supplier of 5G gears and technology. Samsung held 3.0% of the global telecommunications equipment market at the end of 2017 compared to the 28% held by Huawei, the 27% held by Ericsson (ERIC), and the 23% held by Nokia (NOK), according to IHS Markit.