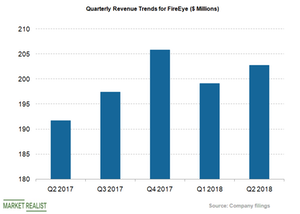 How Helix Can Create a Business Opportunity for FireEye
By Aaron Hemsworth

Updated
Importance of Helix
FireEye (FEYE) continues to enhance its Helix user interface platform on both cloud and on-premise infrastructure. Most organizations use multiple security products, which can be extremely time-consuming when it comes to managing different threats. Thus, Helix delivers a common platform to its customers to manage threats without much difficulty. It offers a one-stop solution to its clients by integrating the company's network, email, and endpoint security platform with its advanced threat intelligence, threat analytics, and orchestration features.
Article continues below advertisement
So, the cyber-security firm is gradually converting its user interface technology into a higher revenue-generating force. It could easily replace a legacy SIM (security information management) in the cloud. FireEye is looking to up-sell its products to its existing customer base by offering a package deal that includes a security product and the Helix interface. Such an approach may generate incremental revenue for the company. When Helix is sold with the endpoint, network, and email security products, it helps clients prioritize alerts driven by machine learning capabilities. The graph above shows FireEye's revenue growth in the last five quarters.
FireEye's future expectation for Helix
FireEye believes that Helix can become the key to the next-generation security operations center and can become the central force of its upcoming FireEye Market. Moreover, the availability of Helix in the public clouds like Microsoft's (MSFT) Azure and Amazon's (AMZN) AWS (Amazon Web Service) cloud platform may not just provide easy deployment but also boost coverage.
The company ended the second quarter of 2018 with 75 new Helix customers as compared with 40 users added in the same period last year.