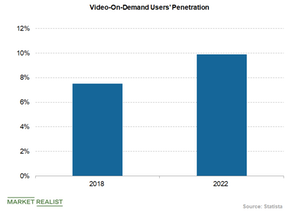 How Comcast's Sky Deal Could Affect Disney-Fox Deal
By Sophia Nicholson

Oct. 12 2018, Updated 9:00 a.m. ET
Disney's acquisition of Fox assets
In June, the Walt Disney Company (DIS) agreed to buy entertainment assets of Rupert Murdoch's Twenty-First Century Fox (FOXA) for $71.3 billion. After the sale of a 39% stake in Sky to Comcast (CMCSA), Disney remains on track to purchase Fox's film and TV studio assets, as well as FX, Fox Sports Regional Networks, Fox Networks Group, stakes in National Geographic Partners, Indian satellite TV group Star India, Hulu, and others.
Article continues below advertisement
Disney to reduce its debt level
Fox and Disney agreed to sell a 39% stake in Sky to Comcast for 11.6 billion pounds (or $15.3 billion). The sale proceeds will likely go to Disney, which plans to use the proceeds to reduce its debt. Disney is also required to divest Fox Sports Regional Networks, which would further reduce its debt.
Disney's debt load is high since it's buying the Fox assets in a half-cash, half-stock deal. Its cash-to-debt ratio was 0.18 as of June 30. Usually, the company can pay off its debts with cash on hand if the ratio is more than 1.0x. Disney's cash and cash equivalents were $4.3 billion, and its long-term debt was $17.7 billion. It has terminated its share buyback program temporarily to utilize the money for the Fox acquisition of media assets. Disney expects to resume share repurchases after it improves its cash-to-debt ratio with a single A credit rating.
Disney to invest in streaming offerings
In addition to reducing its debt levels, Disney wants to utilize the sale proceeds of its divestiture to invest in its Disney-branded direct-to-consumer offering that's expected to launch in late 2019. Disney launched ESPN+, its first direct-to-consumer offering, in April.
As we know, user penetration is growing rapidly for the video-on-demand segment, as you can see in the above chart. It's expected to increase to 9.9% in 2022 from 7.5% in 2018.