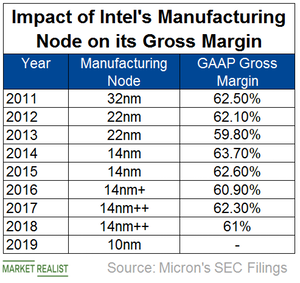 How Advanced Manufacturing Nodes Impact Intel's Gross Margin
By Puja Tayal

Nov. 20 2020, Updated 5:27 p.m. ET
Advanced manufacturing nodes and gross margin
Intel's (INTC) gross margin is influenced by unit volumes, ASP (average selling price), and the resultant product mix. Gross margin is also dependent on production cost. According to Moore's law, every node shrink would improve performance and reduce cost. However, Moore's law is slowing as technology becomes more complex.
During its second-quarter earnings call, Intel's interim CEO Robert Swan stated that with each advanced node, the cost-benefit ratio is decreasing and the capital intensity is increasing. Despite this, the company is investing in advanced nodes to maintain its product leadership. Having the most advanced product offering allows it to command a higher ASP, which helps it generate strong gross margin despite increased capital intensity.
Article continues below advertisement
Robert Swan added that Intel is leveraging the same node for more years to squeeze out maximum returns from that technology. It leveraged the 14nm node for five years and it plans to run both 14nm (nanometer) and 10nm simultaneously, as the tools can be reused. However, this would not be possible for the transition from 10nm to 7nm, where the technology is very different.
Intel's H2 2018 profit margins
Intel (INTC) has been a leader in the manufacturing technology node, but it's losing this technology advantage due to a more than two-year delay in the 10nm node. Its rival foundries TSMC (TSM) and Samsung (SSNLF) have already started production ramp on the 7nm node.
Intel is ramping up production on the 10nm node that would weigh on its fiscal Q4 2018 gross margin. Moreover, the recent CPU (central processing unit) supply shortage saw Intel invest $1.0 billion in capital on expanding the capacity of the 14nm node. This again would weigh on its fourth-quarter gross margin.
Swan stated that the volume leverage would more than offset its lower gross margin and improve operating margin by 150–200 basis points in the fourth quarter. Intel benefits from higher unit volumes in the second half of the year.
Higher volumes increase its revenues without increasing its operating expenses. So, Intel expects its operating margin to rise from 31.0% in 2017 to 34.0% in fiscal 2018. The higher margins would convert into higher cash flows. We will look into this topic next.
Check out all the data we have added to our quote pages. Now you can get a valuation snapshot, earnings and revenue estimates, and historical data as well as dividend info. Take a look!