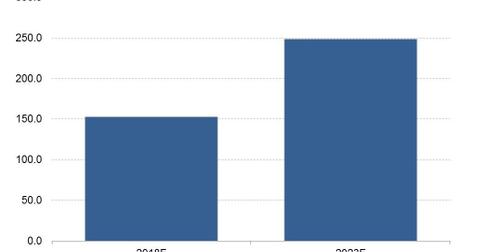 Here's What Symantec's Accounting Probe Unearthed
By Ruchi Gupta

Updated
Symantec to revise reports
In May, Symantec (SYMC) launched a months-long probe of its accounting practices following an alert from a former employee. The company hired independent auditors to undertake the probe, and the results were revealed in September. The probe didn't find any serious flaws with Symantec's financial reporting except a particular transaction that was recognized wrongly in the company's fiscal 2018 fourth quarter, which ended in March. Symantec stock plunged as the probe got underway, as investors feared the outcome could significantly alter the company's previous financial reports.
Article continues below advertisement
Symantec creating new executive positions
The audit revealed that a particular transaction worth $13 million was recognized as revenue in the fourth quarter when $12 million of the amount should have been recognized as deferred revenue. As a result, Symantec will revise its financial results for the fourth quarter and its fiscal 2019 first quarter, which ended in June, to recognize the deferral correctly.
At the same time, Symantec is creating two new executive positions in what appears to be a move aimed at increasing transparency in the company's accounting practices. The new positions are the chief accounting officer and the chief compliance officer. The audit committee of Symantec's board of directors had proposed that the company create the positions.
Symantec's revenue fell in the latest quarter
Symantec is the maker of Norton antivirus, meaning it is one of the companies vying for revenue in the cybersecurity market. The global cybersecurity market is poised to grow to $248.3 billion by 2023 from an estimated $152.7 billion this year, according to MarketsandMarkets.
Symantec's revenue fell 1.6% YoY (year-over-year) to $1.2 billion in its fiscal 2019 first quarter, which ended in June. Imperva (IMPV), Cisco Systems (CSCO), and FireEye (FEYE), the other contenders for the cybersecurity market, reported revenue growth of 13.9%, 5.9%, and 5.7% YoY, respectively, in their most recent quarters. Revenue rose 2.1% YoY for Check Point Software (CHKP) in the latest quarter.