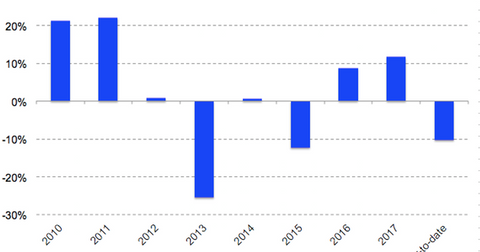 Gold Faces the Headwind of Additional Rate Hikes
By VanEck

Updated
Van Eck
The gold price in U.S. dollar terms has not responded to the Turkish crisis because, at this time, it poses virtually no immediate threat to either the U.S. economy or global financial system. Gold fell $22.69 (1.9%) to end the month at $1,201.40 per ounce in response to the August U.S. dollar strength. The gold price made what appeared to be a capitulation low of $1,160 per ounce on August 16. Thin summer trading activity enabled sellers to dominate as net speculative positioning on Comex (the primary futures and options market for trading metals) turned short for the first time since 2001 when gold was under $300 per ounce.
Article continues below advertisement
After a secular bull run between 2003 and 2011, gold (OUNZ) prices cooled down over the next few years, as the Fed's unprecedented QE (quantitative easing) program led to easy money, which in turn led to a massive bull run in equities. The effect was that investors dumped gold, which has historically been a haven and bought equities, which are riskier.
Gold prices recovered in 2016 and 2017, as real interest rates fell. Gold has an inverse correlation with real rates. However, a stronger dollar this year has caused gold prices to decline over 10% year-to-date (or YTD).
The Fed is likely to keep hiking rates over the next year at least. Its last few hawkish stances have had a huge negative effect on gold prices. These include the "taper tantrum" in 2013, the subsequent winding down of quantitative easing in 2014, and its first rate hike in over ten years back in December 2015.
The Fed is bullish about the economy, which means we can expect a few more hikes. Meanwhile, the massive decade-long bull market we have seen in equities hasn't stopped yet. However, the escalating US-China trade war has the potential to bring about a correction in equities, which could lead to investors taking shelter in havens like gold.