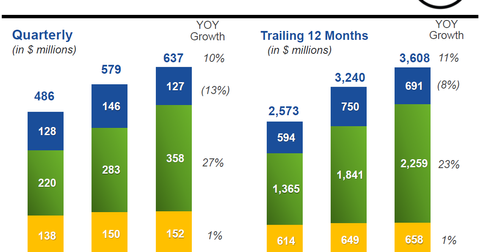 EA Plans to Drive Revenue through Cloud Gaming
By Adam Rogers

Updated
EA follows Google and Microsoft in cloud gaming
Electronic Arts (EA) recently outlined its plans to enter the cloud gaming business segment. EA is one of the largest gaming publishers globally and announced a cloud gaming platform also known as Project Atlas. The company says users will soon be able to stream EA's latest video games to their PC (personal computer) or mobile devices.
While players need a strong and stable Internet connection, a cloud-based gaming subscription model will eliminate the need to purchase gaming consoles. Google (GOOG) (GOOGL) and Microsoft (MSFT) had earlier announced their entry into cloud gaming.
A Business Insider report states, "Cloud gaming uses remote servers to stream video games directly to the player. In the simplest terms, the server runs the game and sends the player a video feed from the cloud, while the player's controller inputs are sent back to the server."
Article continues below advertisement
Subscription revenue will likely be critical for long-term growth
EA will soon be like the Netflix (NFLX) of gaming if the cloud gaming model is a hit. A subscription model could ensure a stable stream of recurring revenue, which could drive EA's long-term sales.
Google's cloud gaming beta is known as Project Stream, where players can access Assassin's Creed Odyssey with just a Google Chrome browser and an Internet connection of 25 megabits per second.
Microsoft's Project xCloud is another cloud gaming service integrated with the company's Azure computing. All three projects are currently in the testing phase, and it will likely be a while before these services launch.
It remains to be seen if cloud gaming will be as revolutionary as the transition to digital gaming that resulted in a significant bull run for gaming companies in the last five years.