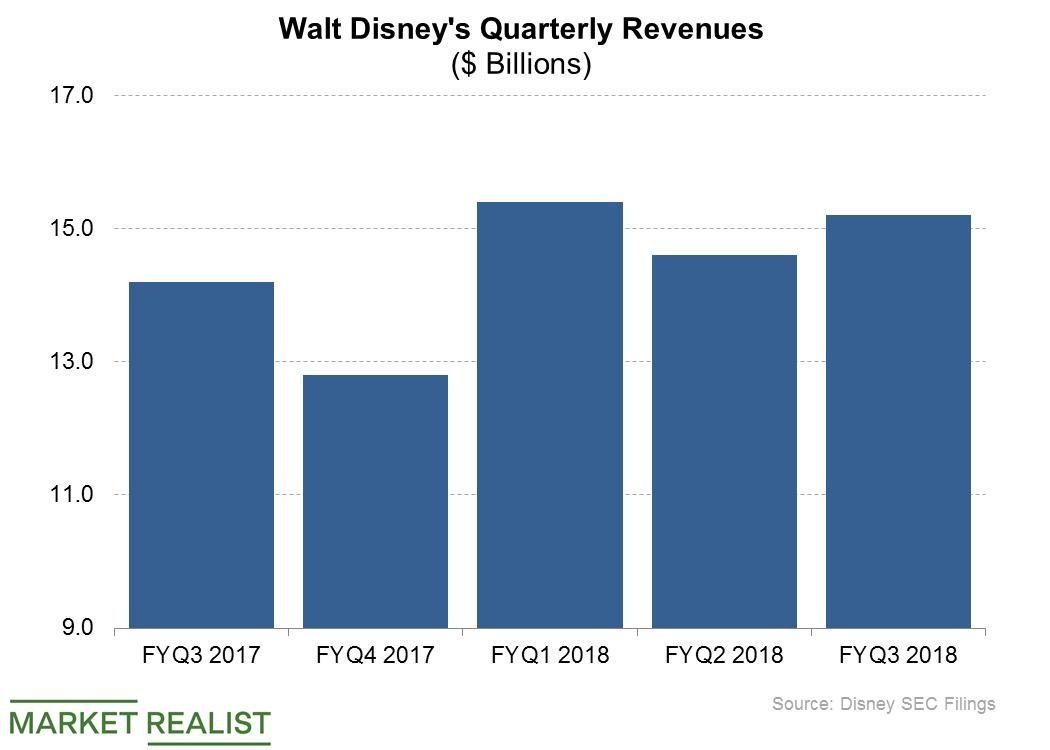 Disney Is Raising $15 Billion from Comcast
By Ruchi Gupta

Oct. 11 2018, Updated 2:15 p.m. ET
Fox is selling its stake in Sky to Comcast
The Walt Disney Company (DIS) is on track to reduce the overall cost of acquiring the majority of 21st Century Fox's (FOX) operations. Fox and Disney have agreed to sell the 39% stake that Fox holds in British broadcaster Sky. The stake was to be transferred to Disney as part of the deal to purchase the bulk of Fox's assets.
With Fox having lost the takeover battle for Sky to Comcast (CMCSA), Fox and Disney have decided to sell Fox's minority holding in the business to Comcast to close the chapter. The sale of Fox's stake in Sky is expected to generate ~$15 billion, which Disney will keep.
Article continues below advertisement
Funding the cash component of the Fox deal
Disney intends to use the proceeds of the sale of Fox's minority stake in Sky to fund its deal to purchase Fox's assets. It agreed to purchase Fox's operations, including its movie production business, for $71.3 billion in a transaction involving cash and stock.
Disney intended to borrow to finance the cash component of its Fox deal, which is estimated to be $35.7 billion. Therefore, Disney's receiving the proceeds of Fox's Sky sale will help it close the deal without having to borrow as much as it may have anticipated. Borrowings introduce interest expenses, which can drive up the overall cost of closing a blockbuster deal such as Disney's $71.3 billion purchase of Fox's assets. Keeping borrowing at a minimum is viewed positively.
Disney is also divesting some regional Fox networks to allow it to gain approval for the deal. These sales should also help it raise more funds that it can spend on financing the blockbuster acquisition.
Top line growth of 7.0% in the third quarter
Disney generated $15.2 billion in revenue in the second quarter, representing an increase of 7.0% from a year earlier. The company is expected to report revenue of $13.7 billion for the third quarter, implying a rise of 7.0% YoY (year-over-year).
Comcast, Altice USA (ATUS), and Discovery (DISCA) are expected to report revenue rises of 3.8%, 4.3%, and 52.9% YoY, respectively, for the third quarter.