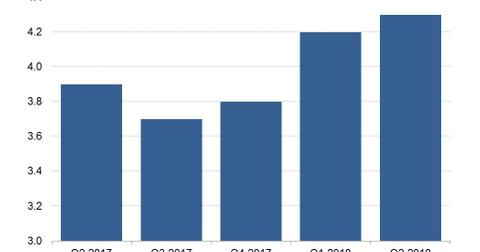 Comcast, Verizon Groups Fight California's Internet Law
By Ruchi Gupta

Updated
California Internet law to take effect in January
Industry trade groups representing Comcast (CMCSA), Charter Communications (CHTR), Verizon (VZ), and other Internet access providers have sued to block California's new Internet regulations.
Last month, California adopted rules that prohibit Internet providers from throttling traffic or introducing paid prioritization. The move came in response to the move by the Federal Communications Commission (or FCC) to do away with the Obama-era open Internet regulations—better known as net neutrality rules. The California net neutrality law is set to go into effect in January next year, but both the federal government and Internet providers are seeking to block it.
Article continues below advertisement
FCC barred states from creating their own rules
Alongside its scrapping of the net neutrality regulations, the FCC has also barred individual states from coming up with their own rules to regulate Internet providers as California has done. Both the US Department of Justice and Internet providers' trade groups have cited California's action as unconstitutional in their suits to block it from implementing its Internet regulations. Companies such as Amazon and Google, on the other hand, support net neutrality rules.
Internet providers such as Comcast have long argued that Internet regulations like the ones that existed under the Obama administration are harmful to new investments and economic growth and have a negative effect on consumers. Verizon and AT&T (T) are investing in 5G (fifth-generation) connectivity to be able to deliver faster data speeds over wireless networks.
Comcast makes $4.3 billion from selling Internet access
With pay-TV subscribers fleeing, selling Internet access has taken on new significance for cable companies such as Comcast. Comcast generated $4.3 billion in revenue from its Internet access business in the second quarter. Charter and Frontier Communications (FTR) generated revenues of $3.8 billion and $973 million, respectively, from selling Internet access in the quarter.