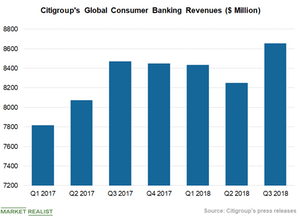 Citigroup's Core Banking Business Continued to Support Top Line
By Anirudha Bhagat

Updated
Global consumer banking
Citigroup's (C) Global Consumer Banking (or GCB) segment's revenue rose 2% YoY (year-over-year) to $8.7 billion. Excluding the impact of the US dollar and the sale of the Hilton portfolio of credit cards, its revenue rose 3%, mainly driven by higher revenues in Latin America, partially offset by revenue decline across North America and Asia markets.
North America GCB revenues inched down 1% YoY to $5.1 billion mainly due to lower revenues from Citi-branded cards and retail banking, partially offset by higher revenues in Citi Retail Services. Latin America GCB revenues grew 20% YoY to $1.7 billion due to strong volume growth across commercial, mortgage, and card loans, as well as deposits. The company's GCB performance in Asia remained pressured due to weaker market sentiment. Revenues from the region declined 2% YoY to $1.9 billion.
On a sequential basis, the segment's revenues increased 5% primarily driven by the strong performance in the domestic and Latin America markets, partially offset by weakness in the Asia market. Sequentially, North America and Latin America GCB revenues grew 2% and 21%, respectively. The Asia market, however, was down 1% from the previous quarter.
Credit offtake
As of September 30, Citigroup had retail loans of $146 billion, representing YoY growth of 1%. The growth reflects the bank's focus on retail offerings amid lower demand for corporate credit. In the third quarter, Citigroup's average card loans rose 4% to $161 billion, and its investment assets under management rose 7% to $169 billion, reflecting higher demand for wealth management advice.
Profitability
The company's Global Consumer Banking credit costs declined 13% in the third quarter mainly due to a 60% plunge in loan loss reserve builds primarily in Citi-branded cards and Citi Retail Services in North America. The segment's net income rose 34% due to higher revenues, reduced cost of credit, and lower taxes partially offset by higher expenses.
Citigroup is looking to expand its credit card portfolio further and focus on retail lending in new countries to grow its lending book. Among major banks (XLF), JPMorgan Chase (JPM) registered a 6% YoY increase in third-quarter average core loans. However, Wells Fargo (WFC) witnessed a 1% decline in average loans. Wells Fargo is struggling with compliance and fraud-related issues. Wall Street projects a 2.9% increase in Bank of America's (BAC) third-quarter average loans. BAC reported third-quarter results today before the market opened.