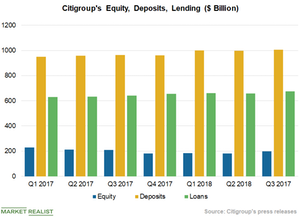 Citigroup's Balance Sheet Expansion Continued in Third Quarter
By Anirudha Bhagat

Updated
Strong balance sheet
Sustained focus on increasing deposits and providing quality loans has helped Citigroup (C) strengthen its balance sheet. Its total assets increased 2% YoY (year-over-year) to ~$1.93 trillion at the end of the third quarter of 2018 mainly due to higher deposits, new assets, rate spreads, increased lending, and broking assets. However, the disposal of some legacy assets partially offset the growth.
Citigroup's deposits in the third quarter grew 4% YoY to ~$1 trillion. An improving US economy, a healthy jobs market, and a steady increase in wages have helped boost its deposits. Additionally, a highly volatile market situation has increased its earnings from trading activities.
Loans for the quarter grew 3% YoY to $674.9 billion. Credits to the corporate sector increased 7% YoY to $349.4 billion, while consumer loans remained flat at $325.5 billion.
Article continues below advertisement
Higher returns
Over the past few quarters, Citigroup has been winding down legacy assets, which has been helping it lower risk-weighted assets on the balance sheet and improve the risk-reward scenario for shareholders.
The bank's sustained focus on expanding its balance sheet with quality assets and share repurchase programs is helping it attain a higher ROE (return on equity). Return on average equity rose to 9.6% in Q3 2018 from 7.3% in Q3 2017, mainly due to higher revenues, lower credit costs, and lower taxes. Its third-quarter return on average assets improved eight basis points YoY to 0.95% from 0.87% in Q3 2017.
Citigroup's biggest competitors are JPMorgan Chase (JPM), Wells Fargo (WFC), and Bank of America (BAC). They've seen decent deposit and credit growth and higher spreads over the last few quarters. All these factors have enhanced their ROE. In the third quarter, JPMorgan's ROE improved 300 basis points YoY to 14%. Wells Fargo's ROE of 12.04% for the third quarter was 308 basis points higher YoY. Wall Street expects that Bank of America could witness a 350-basis-point increase in its third-quarter ROE to 11.1%.
Citigroup makes up ~8.5% of the Invesco KBW Bank ETF (KBWB).