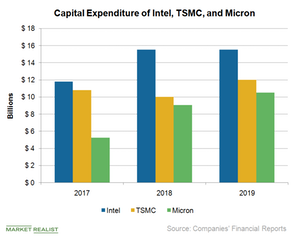 Chipmakers Focus Capital Spending on Advanced Manufacturing
By Puja Tayal

Updated
Intel's CPU supply shortages to hurt fourth-quarter earnings
Intel (INTC) is facing a CPU (central processing unit) supply shortage, which came with an unexpected surge in PC and server CPU demand at a time when it's transitioning to its 10 nm (nanometer) node. In the third quarter, server platform volumes rose 11% sequentially, while desktop and notebook platform volumes rose 15% and 12%, respectively.
In Intel's third-quarter earnings call, interim CEO Robert Swan stated that the company repositioned some of its 10 nm capacity to 14 nm capacity to meet customer demand. That hasn't resulted in any strong yields yet. It also invested an additional $1.5 billion of capital to expand its 14 nm capacity and prioritized production of its high-end server and PC CPUs.
Despite those efforts, Swan said Intel won't be able to meet all the demand for its products. That means the supply of mainstream PC CPUs and IoT (Internet of Things) processors could remain constrained, thus reducing its IoT revenue by ~15% sequentially in the fourth quarter.
Article continues below advertisement
Intel increases capital spending
A slowdown in the semiconductor industry didn't impact Intel's capital spending. For 2019, it plans to set aside $15.5 billion in capital expenditure. Swan said the capital allocation would depend on the demand environment for its 14 nm products, the progress on its 10 nm yields, and the progress on its 7 nm node.
Chipmakers are spending on advanced manufacturing technology
Texas Instruments (TXN) is going forward with its plan to spend $600 million–$700 million on a new 300-millimeter semiconductor plant. It expects it to be operational by 2020 or 2021.
Taiwan Semiconductor Manufacturing Company (or TSMC) (TSM) has set aside $10 billion–$12 billion of capital expenditure for 2019, up from $10 billion for 2018. It plans to use it to upgrade to the expensive 7 nm, 7 nm+, and 5 nm nodes and expand its advanced packaging services in 2019.
Micron (MU) also increased its capital spending from $8.9 billion in fiscal 2018 to $10.5 billion in fiscal 2019. These companies are investing in capital-intensive advanced nodes since they deliver strong cash flows and enhance ROIC (return on invested capital). We'll look at that in the next part.