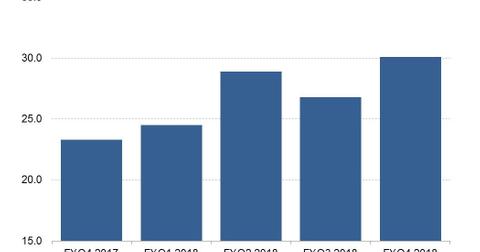 Behind the Microsoft-Adobe-SAP Data Alliance
By Ruchi Gupta

Updated
Breaking data silos
Microsoft (MSFT), Adobe Systems (ADBE), and SAP (SAP) have recently formed an alliance that brings them together on common data standards. The so-called Open Data Initiative aims to eliminate data silos so businesses running applications from members of the alliance can move their customer data easily across platforms. The idea is to let businesses combine data from different platforms to have a complete view of customer interaction. The alliance members are inspired by the hope that eliminating data silos will give businesses more control of their data.
Article continues below advertisement
Microsoft's Dynamics business grew 11%
Microsoft, Adobe, and SAP sell applications that help businesses with functions such as marketing and customer relationship management. The company offers its enterprise resource planning and customer relationship management tools through its Dynamics product line. The company reported that revenue from its Dynamics product line increased 11% YoY (year-over-year) in its fiscal fourth quarter, which ended in June.
Revenue rose 17.5%
Microsoft's overall revenue in the quarter increased 17.5% YoY to $30.1 billion. Revenue was up 24.4% YoY for Adobe in the company's fiscal third quarter, which ended in August. Oracle (ORCL) posted revenue growth of less than 1.0% YoY in its fiscal first quarter, which ended in August. SAP and IBM (IBM) reported revenue growth of 3.8% and 3.7% YoY, respectively, in the second quarter, which ended in June.
Oracle and IBM are among Microsoft's main rivals in the public cloud computing market, which Gartner predicts will generate $175.8 billion in revenue in 2018. The global public cloud market is predicted to grow to $278.3 billion by 2021.