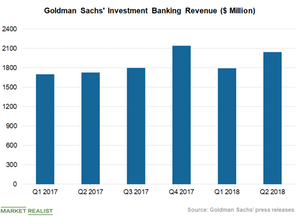 Advisory and Underwriting to Aid GS's Investment Banking Growth
By Anirudha Bhagat

Updated
Investment Banking
The Investment Banking segment is likely to continue driving Goldman Sachs's (GS) overall third-quarter revenue growth. The segment consists of the financial advisory business, which includes mergers and acquisitions, fundraising, corporate defense, and underwriting. Goldman Sachs has witnessed remarkable growth in its Investment Banking segment's revenues in the last few quarters mainly driven by increased M&A (mergers and acquisitions) activities, the underwriting of public offerings, and placements.
In the second quarter, the company registered an 18% YoY rise and a 14% sequential rise in the Investment Banking segment's revenue. Moreover, the bank booked a higher backlog in the second quarter compared to the first quarter, reflecting continued growth in the segment.
During its second-quarter earnings call on July 17, Goldman Sachs revealed that year-to-date, it had been ranked first globally in announced M&A activities, stock offerings, IPOs, and equity-related offerings. JPMorgan Chase (JPM) holds the top spot in the overall investment banking space.
The bank's close peers Bank of America (BAC) and Citigroup (C) registered falling investment banking fees during the second quarter. Bank of America and Citigroup both witnessed 7% YoY falls in investment banking revenues.
Article continues below advertisement
Underwriting revenues
Increases in equity-related offerings, IPOs, and placements are driving Goldman Sachs's underwriting revenues. The company's underwriting revenues rose 27% YoY in the second quarter. Goldman Sachs's third-quarter underwriting revenues are expected to benefit from private market placements, completed transactions, and public offerings.
However, softness in debt underwritings will likely partially offset overall growth. Analysts expect a declining preference for debt underwritings among institutional investors amid the Federal Reserve's hawkish monetary policy.
The iShares U.S. Broker-Dealers & Securities Exchange ETF (IAI) holds ~10% in Goldman Sachs stock.