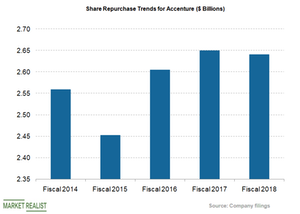 Accenture Maintains Strong Share Repurchase Trends
By Aaron Hemsworth

Updated
Share repurchase trends and guidance
Accenture (ACN) continues to drive investors' returns through strong share buybacks and regular dividend payments. At the end of fiscal 2018, the company returned around $4.4 billion worth of capital to its investors through buybacks and dividend payments as compared with $4.2 billion last year. The company paid back around 80% of its free cash flow in 2018 to its shareholders through total capital returns.
Article continues below advertisement
In 2018, the tech giant repurchased shares worth $2.6 billion, almost flat as compared with fiscal 2017. In fiscal 2019, the company anticipates paying back nearly $4.5 billion to investors through share buybacks and dividend payments against $4.4 billion paid in fiscal 2018. Moreover, in fiscal Q4 2018, the company bought back nearly $552 million worth of shares against $657 million repurchased in the same period last year.
From the graph above, we can see the share buyback trends of Accenture in the last five years. During the period, the company bought back shares worth around $10.3 billion at an average of nearly $2.1 billion per year. Management has authorized an additional $5 billion in funds for share repurchases. Thus, at the end of fiscal 2018, the company is still left with a total of nearly $6 billion worth of shares to be repurchased under its buyback program.
Peer comparison
Other IT companies that operate in the same space like IBM (IBM), Microsoft (MSFT), and Oracle (ORCL) have also continued to boost shareholders' wealth by allocating huge funds for share repurchases. In the last five years, these companies bought back shares at an average of $8 billion, $12 billion, and $8.6 billion, per year, respectively. Thus, Accenture has made the smallest share repurchases as compared to its peers.