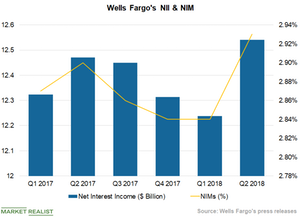 Why Wells Fargo's Net Interest Margin Expanded Last Quarter
By Anirudha Bhagat

Updated
Interest margins improved
Wells Fargo & Company's (WFC) net interest margin has traditionally been the widest among major bankers (XLF). However, between the second quarter of 2017 and the first quarter of 2018, the bank witnessed a marginal contraction in its net interest margin mainly due to lower lending and the search for quality paper, resulting in lower earnings on average assets.
However, in the second quarter, the company's net interest margin expanded sequentially to 2.93% from 2.84% mainly driven by interest rate hikes and a reduction in its proportion of lower-earning assets.
Article continues below advertisement
Wells Fargo's net interest income rose 2.5% YoY (year-over-year) to $12.5 billion in the second quarter aided by wider spreads and offset by lower lending. Its net interest margin could expand slightly over the next few quarters and stabilize at 3%–3.25% if the Fed goes ahead with its planned rate hikes. However, the bank will have to improve its lending growth to widen its spreads in the long run.
Wider margins than peers
Wells Fargo's net interest margin is wider than those of its close peers Citigroup (C), Bank of America (BAC), and JPMorgan Chase (JPM), which had margins of 2.72%, 2.38%, and 2.46%, respectively, in the second quarter. US banks are targeting retail lending to improve their book sizes and widen their spreads and margins. Domestic corporate borrowing has taken a hit since tax rates were lowered, allowing for prepayments and internal cash deployments for expansion plans.
Wells Fargo's non-interest income fell to $9.0 billion from $9.7 billion YoY in the second quarter mainly due to weaker mortgage banking revenue, insurance, and losses in debt-related trading. The fall was offset by growth in equity trading and investment banking fees.