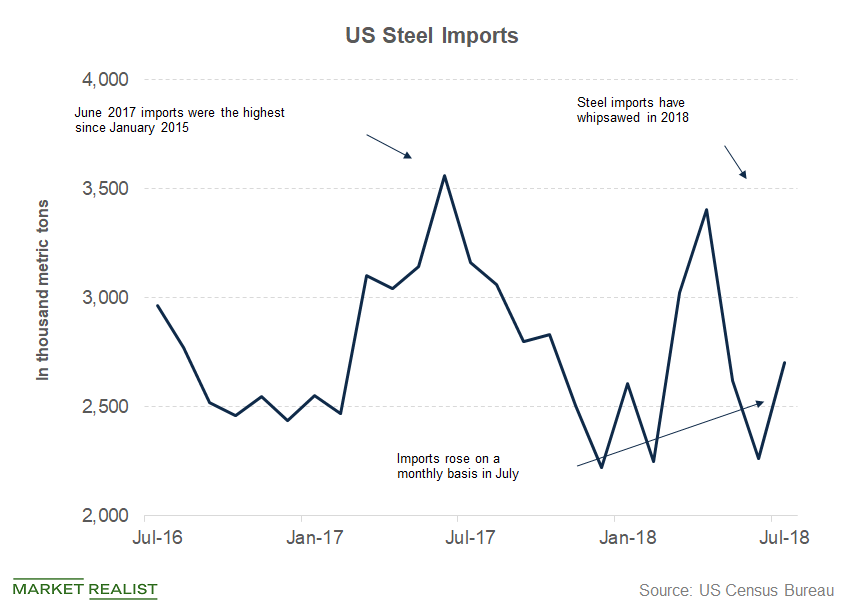 Why US Businesses Aren't Excited about 'Make in America'
By Mohit Oberoi, CFA

Sep. 12 2018, Updated 12:42 p.m. ET
Make in America
Last month, at the restart of Century Aluminum's (CENX) smelter in Kentucky, Commerce Secretary Wilbur Ross said, "This administration remains steadfast in our Made in the U.S.A. commitment." The Trump administration has used tariffs to curb imports and boost domestic manufacturing.
Article continues below advertisement
Steel sector
To be sure, we've seen some impact from the Section 232 tariffs, as US steel imports have seen a year-over-year fall this year. U.S. Steel (X) has also restarted its Granite City plant. The domestic steel industry's capacity utilization rate jumped above 80% last week for the first time since 2014. The Commerce Department listed lifting the US steel industry's capacity utilization rate above 80% as one of the key objectives of the Section 232 tariffs.
Tariffs aren't the only way the Trump administration is trying to stimulate US manufacturing (SPY). The tax bill is another enabler for encouraging US companies' capital expenditure plans. We've seen the restarting of some of the idled steel and aluminum plants. Some steel companies like Nucor (NUE) have also announced investments in new plants after Trump's tariffs.
Downstream users
However, the tariffs have also been counterproductive for some industries. Electrolux put a $250 million investment on hold earlier this year, while Harley-Davidson (HOG) decided to move some of its production overseas after the European Union imposed tariffs on motorbikes from the United States. Tesla (TSLA) has also announced a plant in China. However, the move was expected even before the US-China trade spat began.
Apart from steel and aluminum producers, US companies don't seem too excited about President Trump's "buy American, hire American" slogan. We'll discuss more on this aspect in the next article.