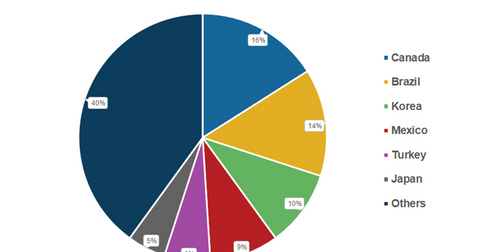 Why Ray Dalio Thinks China Isn't Concerned about Tariff Levels
By Anuradha Garg

Sep. 19 2018, Updated 6:31 a.m. ET
Ray Dalio: China more concerned about its relationship with the United States
Ray Dalio, the billionaire founder of world's largest hedge fund, Bridgewater Associates, noted on September 10 that China (FXI) isn't really concerned about the import tariffs imposed and proposed by the US (SPY)(IVV). During his interview on Squawk Box, he added that China is more focused on its ongoing relationship with the United States. He added that China could even manage its economy in the short term with a "few bumps."
Article continues below advertisement
Nature of the relationship
Dalio asked, "Is this going to be a relationship in which there's a sort of give-and-take or is this going to be an antagonistic relationship?" He added, "I don't think they like the term 'trade war' as to trade negotiations or disputes."
The CNBC report added, "He said he hopes the U.S.-China relationship doesn't follow a path that is very similar to the one with Japan."
China is currently at the stage of economic growth where it's looking to move up the value chain. It hopes to export more value-added products such as robotics, artificial intelligence, and high-tech products. As a result, it needs assistance to reach its goal and access the markets to export its products. China could be more concerned about reaching its full potential. However, the trade tariffs could worsen the relationship between the United States and China.
Dalio: A trade war could be a disaster
In a March 5 LinkedIn blog post, Dalio noted that the trade war between the United States and China could be a disaster. He added, "It seems to me that good deals are to be had for both countries, while a trade war has the risk of tit-for-tat escalations that could have very harmful trade and capital flow implications for both countries and for the world."
The major beneficiary of the trade war in 2018 is the US dollar (UUP), which has been receiving safe-haven bids in the face of uncertainty. Due to the stronger dollar and a higher rate outlook, gold (GLD), which is typically a safe-haven asset, has been falling. A further escalation in the trade war, however, is expected to negatively impact the stock markets—even in the United States—while gold could start attracting bids.