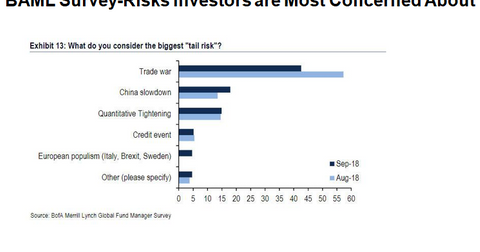 Why a Fed Policy Mistake Is Worrying Markets
By Anuradha Garg

Updated
Fed's policy mistake
Many market participants expect the economy to weaken in 2019. They're concerned that due to the lag between policy change and its visible impact on the economy (SPY) (DIA), the Fed might keep tightening the rates. Investors are concerned that the Fed isn't clear on the neutral policy rate. The concern is that the Fed might keep hiking the rates until something actually breaks in the economy.
The Fed might keep ignoring the risks that a trade war and the emerging markets (EEM) pose. They haven't started impacting the US (VTI). They could have a ripple effect. The US economy might come under pressure sooner than expected.
Article continues below advertisement
Trade war concerns
As we highlighted previously in this series, in the Bank of America Merrill Lynch September survey, trade war concerns were cited as the top concern among global fund managers. Quantitative tightening was the third-biggest fear for fund managers, according to 15% of the participants. Central banks around the world, including the Fed, embarked on quantitative easing after the financial crisis in 2008. For the past few years, the Fed has been tightening its policy.
Tightening to derail the expansion
Market participants are concerned that the reversed direction could derail economic expansion and have a negative impact on the markets. Since the yields between two-year securities (SHY) and ten-year securities (IEF) (TLT) have narrowed, market participants are concerned about an inverted yield curve, which is usually seen as a precursor to an economic recession.