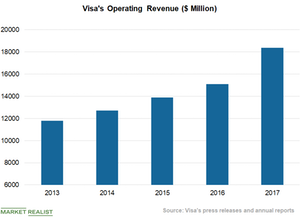 Visa to Gain from Technological Transformation Initiatives
By Anirudha Bhagat

Updated
Technology investments
Payments are shifting rapidly from cash to digital mainly due to continuously evolving digital technology, increasing online transactions, and competitive forces. Visa (V) with its sustained focus on technological innovations is well-positioned to continue leading this digital transformation. Over the years, the leading payment processor company has invested billions of dollars in its technology transformation initiatives.
Article continues below advertisement
Notably, the company's strategy of investing in technology has paid off well in the form of higher processed transactions as well as increased payment volumes. All this has led to higher revenue on a year-over-year basis. Between 2013 and 2017, Visa's operating revenues have grown at a compound annual growth rate (or CAGR) of ~12%. For fiscal 2018, the company projects net revenue to increase in the high-single-digit range.
The most notable achievement under the technology transformation initiative was the launch of Visa's Developer Platform (or VDP) in fiscal 2016. Under this inititiative, the company provided open access to its payment technologies, products, and services to the software application developer community.
According to the company, the platform is designed to help financial institutions, merchants, and technology companies to develop payment solutions that meet the demand of consumers and traders, who increasingly rely on digital payments.
New growth avenues in blockchain and IoT
Visa is accelerating into Internet of Things (or IoT) payments through its Visa Ready Program. The program is designed to help innovators in making devices, software, and solutions compatible so that they can initiate or accept Visa payment. To drive its IoT payment solutions, Visa has partnered with International Business Machines (IBM) and Intel (INTC).
The company has also entered into blockchain-based business-to-business (or B2B) payment service, through the "B2B Connect" platform in November 2017. The platform was developed with the assistance of blockchain startup Chain. The success of the blockchain-based payment service can be understood by the fact that the US-based Commerce Bank, Singapore-based United Overseas Bank, the Union Bank of Philippines, and South Korea's Shinhan Bank are working with Visa on this project.
Visa's arch rival, Mastercard Incorporated (MA), also launched its own proprietary blockchain-based payment processing service in October last year.
Visa makes up ~8.2% of the iShares U.S. Financial Services ETF (IYG).