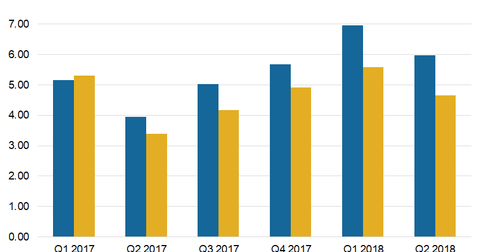 Trump's Business-Friendly Policies Support Goldman Sachs' Growth
By Anirudha Bhagat

Updated
Tax reform
The enactment of President Donald Trump's Tax Cuts and Jobs Act of 2017 has had an overall positive impact on Goldman Sachs' (GS) financials. With the implementation of this act, corporate tax rates have declined to 21.0% from 35.0%.
The entire financial sector has gained from decreased tax rates, as it's among the most highly taxed industries. The reduction in tax rates has dual benefits by improving the net income of a company and unleashing funds to invest in growth opportunities.
Goldman Sachs reported a 42.0% jump in its first-half EPS, reaching $12.93. During its last two earnings conference calls, the company pointed to decreased tax rates as the main reason for the surge in its bottom-line results.
Article continues below advertisement
Among the firm's close peers, Morgan Stanley (MS), Citigroup (C), and Bank of America (BAC) have registered massive jumps in their first-half EPS, primarily driven by reduced tax rates. On a year-over-year basis, the three companies recorded earnings growth of 47.0%, 25.0%, and 40.0%, respectively. Goldman Sachs and its peers comprise ~18.0% of the Oppenheimer S&P Financials Revenue ETF (RWW).
This tax reform act has also allowed companies to repatriate overseas cash by paying a one-time tax of 15.5%, which is ~56.0% lower than the previous rate of 35.0%. This shift has encouraged US companies to repatriate their overseas cash and invest in the domestic market. This investment has resulted in increased M&A (mergers and acquisitions) activities.
Increased M&A activities have boosted the income of investment bankers like Goldman Sachs. According to an August report released by FactSet, Goldman Sachs was the top financial adviser for US M&A deals made year-to-date.
Ease in regulations
The Federal Reserve and the US government has imposed stringent rules for finance companies after the Great Recession broke out in 2007. As a result, there has been a massive rise in compliance costs for companies in this space. However, Trump is working on easing regulations for banks to create a business-friendly environment in the United States.
In May, the Trump administration introduced legislation in which banks with $250.0 billion in assets would be exempt from the Dodd-Frank Wall Street Reform and Consumer Protection Act, which was enacted in 2010. The US government is also considering making it easier for banks to raise capital.
This ease in regulations is expected to help banks reduce regulatory compliance costs, boosting their profitability.