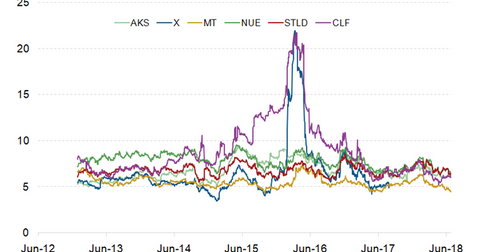 These Factors Could Help CLF Rerate in 2018 and Beyond
By Anuradha Garg

Updated
Forward valuation
In this article, we'll look at Cleveland-Cliffs' (CLF) valuation and compare it to those of its US steel peers (SLX). We'll also look at its forward EV-to-EBITDA (enterprise value-to-EBITDA) and PE multiples.
Article continues below advertisement
Cleveland-Cliffs' valuation
Among US steel stocks (XME), U.S. Steel Corporation (X) and ArcelorMittal (MT) are trading at the lowest forward multiples of 3.5x and 4.3x, respectively. Cleveland-Cliffs, on the other hand, is trading at the highest multiple of 6.3x. Nucor (NUE) and Steel Dynamics (STLD) follow with multiples of 6.1x and 6.0x, respectively.
CLF's current forward EV-to-EBITDA multiple still implies a discount of 20% to its trailing-five-year multiple. Compared to the peer average, it's trading at a premium of 18%.
Fundamentals and value
As we highlighted in Is There a Disconnect between CLF's Valuation and Fundamentals? investors expect the steel price environment to deteriorate significantly in the future to justify such low valuations. While there could be a correction in steel prices as the initial euphoria of tariffs tapers off and more capacity comes online, prices are expected to remain reasonably supportive of earnings.
Cliffs' earnings potential and margin accretion in the form of its existing US iron ore business and its HBI (hot briquetted iron) plant are looking the best they've looked in several years. Still, its valuation is trailing its historical multiples. There could be some catching up to do for its price and valuation so that these improvements are fully priced in.
Stable to slightly falling steel prices along with Cliffs' attractive business prospects—including its HBI plant, DR-grade (direct reduced) facility, unique positioning, steady demand, long-term contracts, strong execution, and impressive balance sheet—are likely to have positioned the company to see significant returns going forward.
Read Revisiting the Case: How Does Cleveland-Cliffs Look Now? for an in-depth analysis of CLF's fundamentals and valuation.