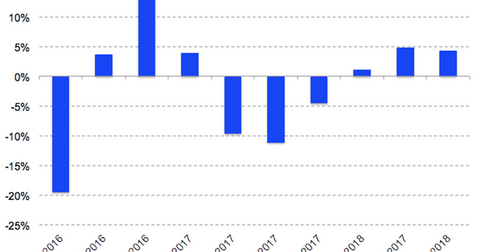 The Qualcomm-Apple Battle Intensifies
By Sanmit Amin

Updated
Qualcomm is claiming that Apple stole its trade secrets for Intel
Qualcomm (QCOM) and Apple (AAPL) have been embroiled in a legal battle for quite some time. Apple has been refusing to pay Qualcomm's royalty payments, claiming that they're unfair.
Apple has thus reduced its reliance on Qualcomm. Apple's most recent iPhones have more Intel (INTC) chips than Qualcomm chips.
According to a report by CNBC, Qualcomm is accusing Apple of stealing its trade secrets and giving them to its rival Intel. That changes a previous suit by Qualcomm that claimed that Intel staff was working with the iPhone maker and using Qualcomm's source code.
It's rumored that the latest iPhones only use Intel's radio chips. The older models still have Qualcomm's.
Article continues below advertisement
Qualcomm has had a tough year, but there is a silver lining
Qualcomm has had a tough year. First, it had to fend off a hostile takeover bid from Broadcom (AVGO). Then it had to drop its acquisition of Dutch company NXP Semiconductors (NXPI) after Chinese antitrust authorities blocked the deal.
Despite that, the stock has risen 13.5% year-to-date. The rise is due to the much-awaited launch of 5G (fifth-generation) technology, which could lead to increased prices for its chips and higher revenue from licensing.