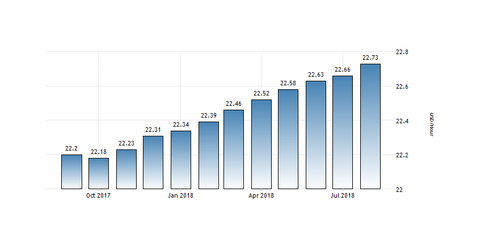 Strong Wage Growth and the Fed's Path for Two More Hikes in 2018
By Anuradha Garg

Updated
US unemployment rate
The unemployment rate for August came in unchanged at 3.9%, which was higher than economists' expectations of 3.8%. However, it's still the lowest in nearly 18 years. The Federal Reserve is forecasting unemployment of 3.5% by the end of this year.
Article continues below advertisement
Wages grow to post-recession high
The most awaited piece of the employment situation, wage growth, didn't disappoint the economists this time. The slower rate of wage growth despite the economy running at near full employment has puzzled market participants and the Fed alike. 
For August, however, the average hourly earnings recorded growth of 2.9% on an annualized basis, which is highest since June 2009. It surpassed economists' expectations of a sequential rise of 0.2% and annual growth of 2.7%.
The strong wage growth, however, adds to the concerns of inflationary pressures building up in the economy, which encourages the Fed to adopt a more aggressive approach toward a rate hike. The rate hike prospects weigh negatively on equities.
Impact on equities and gold
This was the reason that the US equity markets fell sharply in February when the January wage growth data was released. The annualized wage growth had come in at a post-recession high, but the number was later revised downward. While the US equity markets (SPY)(DIA) initially reacted negatively to the strong wage growth news, they gave up most of their losses only to fall further on Trump trade talk.
While the September rate hike (TLT) is almost a given, the data for the US economy is important for the decision regarding the fourth rate hike in 2018 and the path going forward.
Although the current wage growth rate is enough to keep the Fed on the gradual interest rate hike path, creeping inflation could eat away a lot of real gains to this growth. The full impact of the Trump administration's tariff program is also expected to be inflationary.
As the current trend of rising inflation is sustained, investors might want to hold gold as a hedge against inflation. If inflation continues to accelerate and trade concerns flare up, the Fed might have to go slowly on interest rates. This policy could be beneficial for gold (GLD).