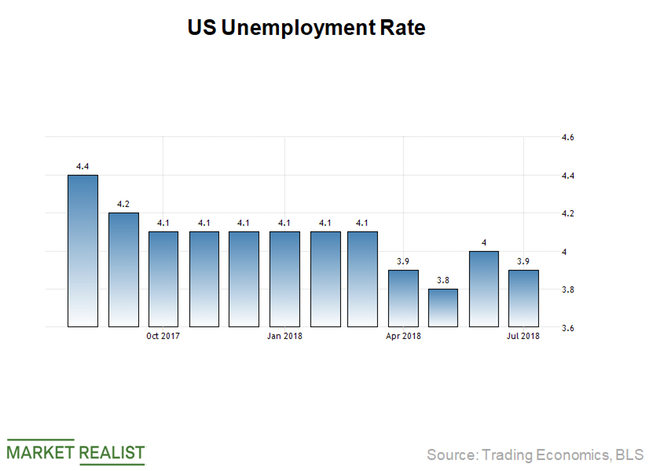 Solid US Expansion Should Keep Unemployment at a Multiyear Low
By Anuradha Garg

Sep. 6 2018, Updated 7:32 a.m. ET
Unemployment rate sits at a multiyear low
The unemployment rate for July fell 0.1% sequentially to 3.9%, its lowest point in nearly 18 years. The rate has been under 4% for four consecutive months. The Fed is forecasting an unemployment rate of 3.5% by the end of this year.
Another highlight of July's unemployment data was that the unemployment rate for the least educated US workers fell to 5.1% in July, the lowest point since the government started collecting data in 1992. These workers were hit the hardest during the Great Recession.
Article continues below advertisement
How low can the unemployment rate go?
The unemployment rate hit 3.8% in 2000 as well. However, there's a basic difference between then and now. In 2000, the labor force participation rate was 67% compared to July's 62.9%. As more people start actively looking for jobs, the unemployment rate will show a more accurate picture of the job market.
In a healthy economy, there is always a natural rate of unemployment. The unemployment rate can't fall to practically zero because there's always some level of unemployment for a variety of reasons, including the following:
people leaving their current jobs to look for new ones
a mismatch between workers' skills and job requirements
seasonal factors
Unemployment rate and market consensus
According to the consensus compiled by Bloomberg, economists expect the unemployment rate to fall to 3.8% in August from July's 3.9%. The unemployment rate hit 3.8% in May as well. If the rate slips to 3.7%, it will be at its lowest point since 1969. Many economists think that even as the labor force participation rate increases, unemployment levels could near 3.5% toward the end of the year.
The Fed is judging "full employment" as being consistent with 4.5% unemployment or lower. A level of 3.8%, as expected by economists, should be consistent with the Fed's gradual rate hike (BND) path scenario. The level shouldn't have much of an impact on the markets (SPY) (VTI).