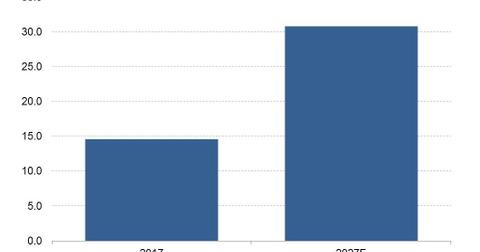 Samsung Steps Up Pursuit of $30.8 Billion in Headphone Market
By Ruchi Gupta

Updated
High-end model retails for $149.95
Samsung (SSNLF) is stepping up its chase of the global earphones and headphones market—worth billions of dollars—with the release of three new wireless headphones. The three headphones—Y100, Y500, and N700NC—were launched earlier this year, with the Y100 and Y500 being immediately available for purchase in the United States. The N700NC model is expected to be available for sale later this year.
The new Samsung headphones retail for $99.95–$149.95. The high-end N700NC features noise-cancellation capabilities.
Article continues below advertisement
Headphone market growing 7.8% annually
The global earphone and headphone market generated $14.6 billion in revenues in 2017, according to Future Market Insights. This market is forecast to grow at the rate of 7.8% per year over the next decade and is expected to reach $30.8 billion by the end of 2027.
The expansion of this market is fueled by several factors, including an expanding urban population and the growing adoption of personal electronics such as smartphones.
Samsung battling Sony, Apple for headphone dollars
In addition to Samsung, other major players in the global earphone and headphone market are Sony (SNE), Apple, Philips (PHG), and Bose. Samsung's companywide revenues declined 4.1% YoY (year-over-year) to ~$52.0 billion in the second quarter. Apple's second-quarter revenues rose 17.3% YoY, and Sony's revenues rose 5.1% YoY in the second quarter. Philips saw its revenues decline less than 1.0% in the second quarter.
Samsung has partnered with Amazon (AMZN) and Sprint (S) to help it distribute its new headphones in the United States. Amazon serves more than 310.0 million consumers worldwide, and its Amazon Prime program has more than 100.0 million members. Sprint exited the second quarter with ~53.7 million wireless customers.