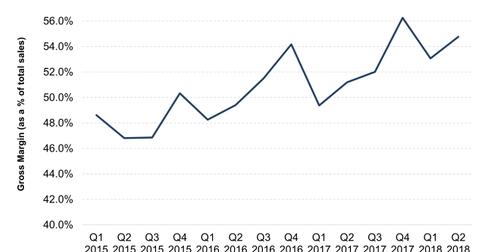 Robust Sales and Cost Discipline Drove LULU's Fiscal Q2 Margins
By Sonya Bells

Updated
Lululemon's margins improved further in the fiscal second quarter
Lululemon Athletica (LULU), which posted its fiscal second-quarter results on August 30, recorded a stellar 82% YoY (year-over-year) rise in EPS to $0.71.
On average, analysts surveyed by Thomson Reuters were expecting a 25.6% rise in LULU's EPS to $0.49. The robust increase in its sales accompanied by its higher gross margin and better SG&A (selling, general, and administrative) expense rate drove its bottom line during the quarter.
Article continues below advertisement
LULU's margins
Lululemon's gross profit increased 33% YoY to $396 million during the fiscal second quarter, while its gross margin expanded 320 basis points to 54.8% of its sales. Behind this improvement was a 260-basis-point increase in its overall product margins due to a favorable product mix, lower product costs, and lower markdowns than in the same quarter last year. The company also benefited from 70 basis points of leverage on occupancy and depreciation and 20 basis points worth of favorable currency impact. The fiscal second quarter was the ninth straight quarter in which LULU's gross margin improved.
Lululemon's operating margin expanded a massive 570 basis points to 18.5% of its sales driven by its gross margin improvement and the 260-basis-point improvement in its SG&A expense rate. Its SG&A expenses stood at 36.2% of its sales in the quarter compared to 38.6% in the same quarter last year.
"Our product assortments and supply chain work continue to exceed expectations, contributing to our gross margin that is now firmly reaching the mid-50s range. This result, combined with our solid SG&A management has produced a trailing 12-month EBIT margin of nearly 21%, delivering on our goal of a low-20s operating profit," said Stuart Haselden, Lululemon's COO, during the company's fiscal second-quarter earnings call.
Read the next article to learn about the stock market's reaction to the company's strong results.