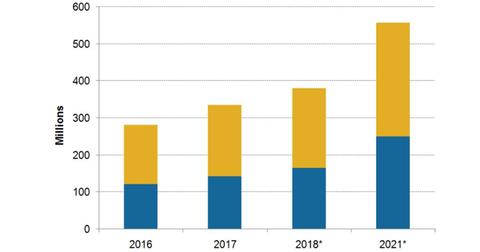 NVIDIA: A Way to Invest in the Esports Trend
By Puja Tayal

Updated
Esports
NVIDIA (NVDA) is a popular name among gaming enthusiasts. Gamers use the company's GPUs (graphics processing units) to get the ultimate gaming experience. The PC gaming market is changing with the advent of Esports, a multiplayer gaming event. NVIDIA is benefiting from Esports.
Esports has become a sports event by attracting professional gamers and a gaming audience. According to analysts, Esports' viewership is equal to US football's viewers. Newzoo estimates that the total Esports audience will grow from 395 million in 2018 to 580 million by 2021.
Article continues below advertisement
A Citi Research report titled "Disruptive Innovations VI" listed ten innovations that could significantly boost the associated industries. Esports is one of the listed innovations. The report stated that the availability of high-speed Internet and powerful PCs encouraged more people to play Esports.
How can investors invest in the Esports trend?
The Citi Research report stated that investors can get exposure to the Esports trend by investing in NVIDIA and Logitech. The two companies stand to benefit the most from the trend. The report noted that 86% of gamers use NVIDIA's gaming GPUs. The gaming GPUs are a key component to run today's graphics-intensive games. Newzoo estimates that Esports sales could grow 38% YoY (year-over-year) in 2018 to $906 million.
A CNBC article stated that Mark Tepper, Strategic Wealth Partners' president, is bearish on the semiconductor industry due to the US-China trade war. Tepper considers NVIDIA to be an exception because of its high exposure in the fast-growing gaming market. He's bullish on the gaming market.
Advanced Micro Devices (AMD) competes with NVIDIA in the gaming GPU space. However, Advanced Micro Devices lags NVIDIA in terms of technology. Even Advanced Micro Devices is benefiting from growing gaming GPU demand. Advanced Micro Devices' GPU growth rate is slower than NVIDIA's growth rate.
Next, we'll discuss NVIDIA's data center business.