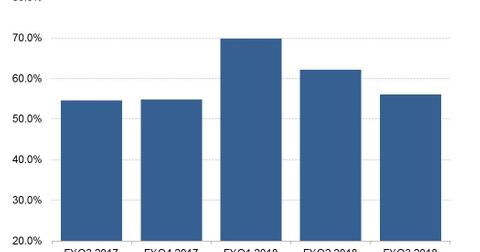 No End in Sight to Apple-Qualcomm Dispute
By Ruchi Gupta

Updated
Apple opted for Intel modem chips in latest iPhones
The latest iPhone models that hit stores recently appear to have added fuel to the patent dispute that has been playing out between Apple (AAPL) and Qualcomm (QCOM). Apple exclusively used modem chips from Intel (INTC) in making the iPhone XR, the iPhone XS, and the iPhone XS Max, the latest iPhone models.
However, Qualcomm thinks it wouldn't have been possible for Apple to rely on Intel's modem chips if it had not been cheated. In its latest court filings in the legal dispute with Apple, Qualcomm accuses Apple of stealing its trade secrets to help Intel improve its modem chips so they could perform just as well as Qualcomm chips.
Article continues below advertisement
Bitter legal battle over patents
Apple has long denied misusing Qualcomm's secrets. Apple and Qualcomm have been entangled in a bitter legal battle over patents for nearly two years. The companies sued and countersued each other in many jurisdictions including the US and China. Qualcomm is accusing Apple of failing to pay for its technology, while Apple blames Qualcomm for trying to burden it with excessive patent fees.
Blocking iPhone sales
Qualcomm's court moves against Apple have included seeking to ban manufacturing of iPhones in China and the sale of products in the US, targeting Apple's most important bases. The Americas is Apple's largest market region in terms of revenues, and the iPhone is Apple's primary source of revenue.
The iPhone contributed about 56.1% of Apple's total revenue in the fiscal third quarter ended in June. Apple's total revenue rose 17.3% YoY (year-over-year) to $53.3 billion in June. Revenue was down 4.1% YoY for Samsung (SSNLF) and up 5.1% YoY for Sony (SNE) in the June quarter.