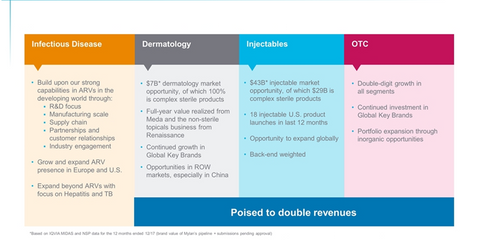 Mylan Expands in the HIV Space, Partners with Atomo Diagnostics
By Sarah Collins

Updated
Overview
Mylan (MYL) is the global leader in the HIV generics drug market. In 2018, Mylan introduced three new HIV drugs in the US market. On September 24, Mylan and Atomo Diagnostics entered into a partnership for the commercialization of in vitro HIV rapid diagnostic tests for self-testing in low-income and middle-income countries.
These tests, which are approved in Europe, allow accurate results and administration at home. The results are delivered in 15 minutes and allow timely access to treatment. The partnership agreement accelerates Mylan's commitment to expand and improve access to infectious diseases around the world, as highlighted in the chart below.
Article continues below advertisement
Rapid diagnostic tests' availability in low- and middle-income countries
Mylan (MYL) noted that one-third of the world's 36.7 million HIV-infected patients may not be aware that they are infected. Low-income and middle-income nations generally don't have access to readily available self-tests for HIV. The people in these nations generally undergo diagnostic tests that are conducted by professionals in formal settings. Atomo Diagnostics' self-test products are designed to expand their access to HIV testing.
Mylan has exclusive commercialization rights to Atomo's CE-marked self-test products in more than 100 countries. These regions include Africa, Asia, the Commonwealth of Independent States, the Middle East, and Latin America. The launch is expected to occur in early 2019.
Next, we'll discuss the recent news related to Mylan's Neulasta biosimilar.
Check out all the data we've added to our quote pages. Now you can get a valuation snapshot, earnings and revenue estimates, and historical data, as well as dividend information. Take a look!