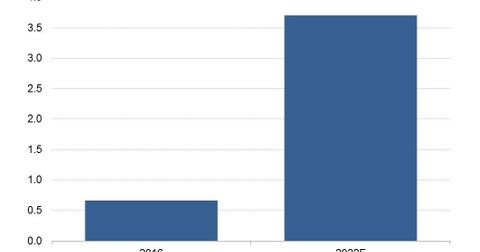 Is Dropbox Eyeing the $3.2 Billion Digital Signature Market?
By Neha Gupta

Updated
Market expanding 30% annually
Dropbox (DBX) appears to be exploring a venture into the digital signature market, which consulting firm Stratistics MRC says is expanding at the rate of 30.0% annually. TechCrunch noted that Dropbox recently distributed a survey, seeking opinions from its customers about a new feature called "E-Signature from Dropbox."
The survey describes how the digital signature feature works. Its asks customers how likely they would be to use the product and how often. It appears that Dropbox could be gauging customer interest in a potential new product.
Article continues below advertisement
Revenue opportunity is attractive
There's no guarantee the survey would lead to Dropbox rolling out a digital signature feature. However, if the company decides to venture into the digital signature business, the revenue opportunity is attractive. The global digital signature market generated $662.4 million in revenues in 2016, which Stratistics MRC expects to grow to $3.2 billion by 2022. Major players in the digital signature market include Adobe Systems (ADBE), DocuSign (DOCU), and OneSpan (OSPN).
Dropbox's revenues increased 27%
Adding a digital signature tool to its paid packages could help Dropbox drive upgrades from free plans to paid plans, potentially leading to higher average revenues per customer. Dropbox exited the second quarter with 11.9 million paying customers, and its average revenue per paying customer was up to $116.70 from $111.20 in the second quarter of 2017. The company's revenues rose 27.0% YoY to $339.2 million.
Docusign (DOCU), Adobe Systems (ADBE), and OneSpan (OSPN) reported YoY revenue growth of 33.0%, 23.8%, and 8.5%, respectively, in their most recent quarters. Box Inc.'s (BOX) second-quarter revenues rose 20.6% YoY.