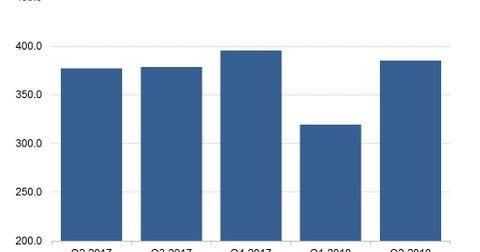 Here's What Pandora Shareholders Are Promised in the Sirius Deal
By Neha Gupta

Updated
Pandora free to consider alternative offers
Pandora (P) has entered an agreement to sell itself to Sirius XM Holdings (SIRI) in an all-cash deal expected to close by April next year.
Under the deal, Pandora shareholders will receive 1.44 newly issued Sirius XM shares for every Pandora share they hold. Since the deal values Pandora at $10.14 per share, Pandora shareholders are promised a premium of 12% based on Pandora's closing price on the trading day before the deal was announced.
The deal that Pandora has negotiated with Sirius XM allows it to consider alternative buyout offers should any come along.
Article continues below advertisement
Pandora and Sirius grew their revenues in the latest quarter
Pandora's revenue increased 12% YoY (year-over-year) to $384.8 million in the second quarter, and its net income improved to -$92 million from -$275.1 million a year earlier.
Revenue rose 6.3% YoY to $1.4 billion at Sirius XM in the second quarter. The company posted a profit of $292 million in the quarter, up from $202 million a year earlier. Sirius XM operates a satellite radio station that is available on subscription.
The company finished the second quarter with ~6.0 million paying listeners. Spotify (SPOT) and Apple are in the lead in this area, as they boast some 83 million and 40 million paying listeners, respectively.
Pandora has recently teamed up with AT&T (T) and Snapchat (SNAP) on programs aimed at extending its customer reach. AT&T finished the second quarter with 147.3 million wireless subscribers, while Snapchat exited the quarter with 188 million daily active users globally.
Comedy radio channel
Pandora is set to join Sirius XM at a time when Sirius XM is also on track to launch a new comedy-focused radio channel in partnership with Netflix (NFLX). The comedy channel is slated to launch in January next year. Netflix is a leader in streaming video, boasting some 130.1 million subscribers globally as of the end of June.