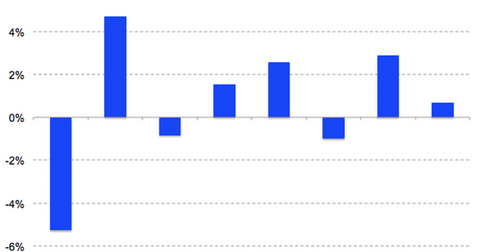 Here Are the Stats Apple Disclosed at Its Event
By Sanmit Amin

Updated
Apple about to sell its 2 billionth iOS device
At its annual iPhone event on Wednesday, September 12, Apple (AAPL) unveiled three new versions of the iPhone X and its Apple Watch Series 4. As always, the tech giant disclosed some figures about the company.
Apple's CEO Tim Cook said the company is close to selling its 2 billionth iOS device. That figure also includes devices such as iPads. However, most of those sales are iPhones.
Article continues below advertisement
iPhone revenue growth could hit a snag
The new iPhones unveiled at the event are even more expensive and could put off even more people than last year, especially with smartphone upgrade rates declining. Apple needs to see some improvement in its iPhone sales or its revenue growth could decelerate when the iPhone's average selling price doesn't see the same growth as last year.
In 2017, Apple shipped 1.2 billion iPhones. But Alphabet's (GOOG) Google announced that there were two billion Android users.
Apple has built numerous stores around the world. Cook said Apple stores now attract a whopping 500 million visitors per year. Apple also claimed that its watch is number one in the world, beating Android-based smartwatches, Quartz, and other spring-driven watches.