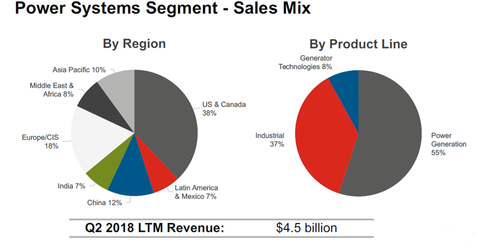 Cummins Awarded $491 Million Contract by Department of Defense
By Samuel Prince

Updated
US Department of Defense contract
On September 11, Cummins (CMI) announced that it was awarded a $491 million contract by the United States Department of Defense. Cummins will manufacture and supply diesel-powered generators to the department and supply AMMPS (Advanced Medium Mobile Power Sources) generator sets to the US military. Under the contract, it will deliver the generator sets through 2023.
Article continues below advertisement
About AMMPS
According to Cummins, the new AMMPS units are 21% more fuel efficient, 35% less noisy, and 40% more reliable than the earlier fleet of Tactical Quiet Generators. The rise in efficiency and less fuel consumption should result in cost reductions. Cummins estimates that the new AMMPS will save the Department of Defense $432 million as well as increase troop safety in combat.
AMMPS generators also have a carbon emissions reduction of 509,698 metric tons CO2,[1. carbon dioxide] or 7.7 million metric tons over their expected life. More than 24,000 Cummins AMMPS generator sets are currently used in South Korea, the Continental United States, Africa, and Afghanistan.
The Department of Defense has taken many measures to enhance troop security and save fuel in order to meet their energy needs. Cummins has ~100 years of technological innovation expertise across diverse markets. By leveraging that expertise, the company showcased future enhancements to minimize fuel consumption through microgrid capability and higher system reliability. Its unique positioning was instrumental in getting the $491 million Department of Defense contract.