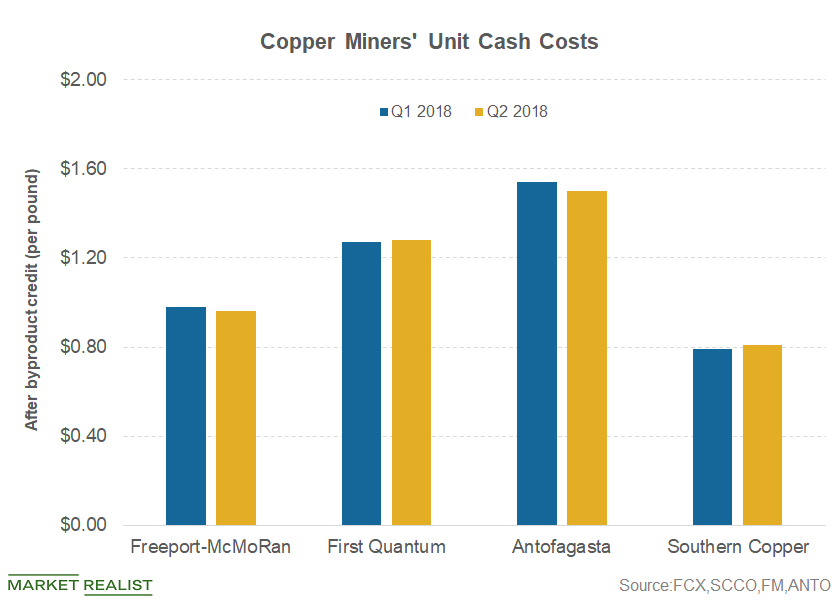 Could Cost-Push Inflation Dent Copper Miners' Outlooks?
By Mohit Oberoi, CFA

Sep. 5 2018, Updated 7:31 a.m. ET
Cost-push inflation
Previously in this series, we looked at copper miners' second-quarter productions and 2018 guidances. In this article, we'll look at their unit production costs.
When commodity prices fall, high-cost producers become unprofitable much more quickly than those who are placed more favorably on the cost curve. It's therefore crucial for commodity producers to have competitive cost structures. Copper miners have been facing cost pressures this year especially due to higher energy prices (XLE).
Article continues below advertisement
Comparative analysis
Freeport-McMoRan (FCX) reported unit cash costs after by-product credit of $0.96 per pound in the second quarter compared to $0.98 per pound in the first quarter and $1.20 per pound in the second quarter of 2017. Freeport managed to reduce its unit cash costs sequentially in the second quarter to $0.01 lower than its guidance despite its gold production being lower than its guidance.
Southern Copper (SCCO) reported unit cash costs after by-product credit of $0.81 per pound in the second quarter compared to $0.79 in the previous quarter. However, the company's unit cash costs fell 17.3% year-over-year on higher by-product credit.
Higher costs
Antofagasta (ANTO) reported a yearly rise in its second-quarter unit cash costs. However, the metric fell on a sequential basis to $1.54 per pound. The company said during its second-quarter production report release, "We continue our disciplined approach to costs, but we have seen higher input prices and the impact of a stronger Chilean peso coupled with lower grades during the first half of the year. However, with grades and by-product volumes expected to increase in the second half, we expect a reduction in net cash costs."
Rising energy prices have been a headwind for copper miners, as they've led to higher costs. Equipment costs, ranging from trucks to tires, have also risen. Furthermore, labor contract negotiations at several mines are expected to lead to a higher compensation structure for employees, which could also add to miners' costs. Generally, cost-push inflation leads to higher metals prices (DBC). However, given the US-China trade war, copper prices have been subdued this year.
In the next article, we'll look at copper miners' profitabilities.