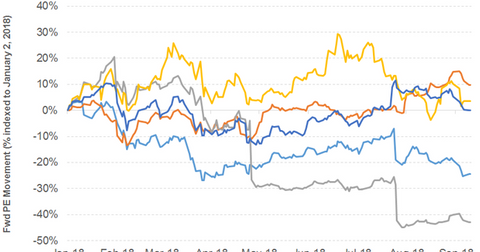 China's Budding Relationship with Russia Might Not Be Good for US
By Amanda Lawrence

Updated
What's brewing between China and the United States?
The joint venture between Alibaba Group Holding (BABA) and Mail.Ru will play a crucial role in shaping China's trade. The venture announcement came shortly after President Donald Trump's announcement of tariffs on Chinese goods. He also held China responsible for yuan manipulation leading to an unfavorable trade balance for the United States.
Trump also requested that Apple (AAPL) shift its production from China to the United States. China accounts for 20% of Apple's revenue. The other FAANG[1. Facebook, Amazon, Alibaba, Netflix, and Google] stocks—Facebook (FB), Amazon (AMZN), Netflix (NFLX), and Google (GOOG)—do not have a significant exposure to China.
Article continues below advertisement

China retaliated to the US tariffs with potential tariffs on US goods. China continues to capitalize on its strengths, which include e-commerce and games. China's rising Internet penetration provides it with the requisite cushion to ward off tough times. China is considering business investments with Russia worth $100 billion. Russia is also slated to launch its war games with China and Mongolia as a test of its military security. Russia, not the United States, continued to be China's top supplier of oil in 2018.
Effect on the United States
The above events may not be good for the United States, first because China's trade surplus with the United States increased from $28.1 billion in July to $31.1. billion in August. Second, China's growing AI capabilities are expected to surpass US capabilities by building an AI industry worth $1 trillion by 2030.
Third, Apple acknowledged that the tariff war would be more detrimental to the United States than to China. Huawei has already snatched the second position from Apple in the global smartphone market. Finally, Russia came under US scrutiny for its alleged manipulation of the 2016 US elections.
Could the United States think twice about going ahead with the tariffs on China? Time will tell.