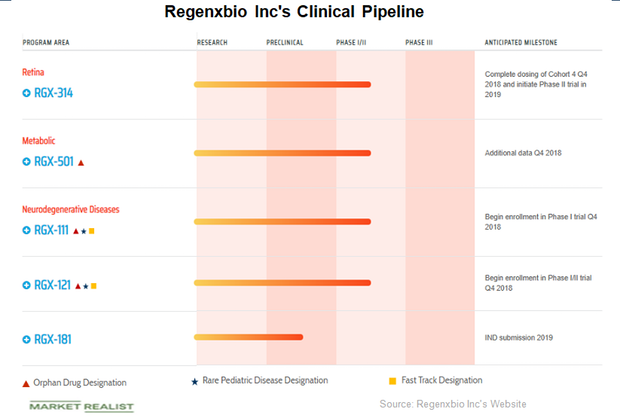 Are You Following Regenxbio in 2018?
By Kenneth Smith

Sep. 13 2018, Updated 2:04 p.m. ET
Company overview and expenses
Regenxbio (RGNX), a clinical stage biotechnology company, is exploring the curative potential of gene therapy. Its proprietary adeno-associated virus (or AAV) gene delivery platform includes exclusive rights to more than 100 novel AAV vectors. Regenxbio's gene therapy candidates are designed to deliver genes to cells to help cells produce therapeutic proteins that impact diseases and improve patient outcomes.
Article continues below advertisement
In fiscal 2017, Regenxbio incurred R&D (research and development) expenses of $57.22 million. For fiscal 2018, its R&D expenses are expected to increase to $86.95 million. In comparison, 2018 R&D expenses for peers Amgen (AMGN), Bluebird Bio (BLUE), and Regeneron Pharmaceuticals (REGN) are expected to be $3.47 billion, $435.65 million, and $2.02 billion, respectively, in 2018.
Key products
Regenxbio's key product candidates include RGX-314, RGX-501, RGX-111, and RGX-121. RGX-314 is targeted for treating wet age-related macular degeneration, a leading cause of total and partial vision loss. Regenxbio started enrolling patients in its Phase 1 trial in May 2017 and has completed dosing 18 subjects. The company expects to dose six more subjects by the end of the fourth quarter of 2018 and begin a Phase 2 trial in 2019.
Article continues below advertisement
Its RGX-501 is being developed for homozygous hypercholesteromia, a severe genetic disease characterized by premature and aggressive plaque build-up, coronary artery disease, and aortic valve disease. The company completed dosing six subjects in its Phase 1/2 trial. Additional data is expected in the fourth quarter of 2018.
MPS1
Regenxbio's RGX-111 is being developed for treating neurological symptoms of mucopolysaccharidosis type one (or MPS1), a severe genetic lysosomal storage disease. Regenxbio expects to begin enrolling patients in a Phase 1 trial of the drug in the fourth quarter of 2018.
RGX-121 is under development for treating neurological symptoms for MPS2. Regenxbio expects to start enrollment in a Phase 1/2 trial in the fourth quarter of 2018. Regenxbio also has RGX-181 in its pipeline. The drug is targeted for treating late-infantile neuronal ceroid lipofuscinosis type two (or CL2) disease, a form of Batten disease. Its IND (Investigational New Drug) application is expected in 2019.
We'll take a look at Regenxbio's top line trend and valuation metrics in the next part.