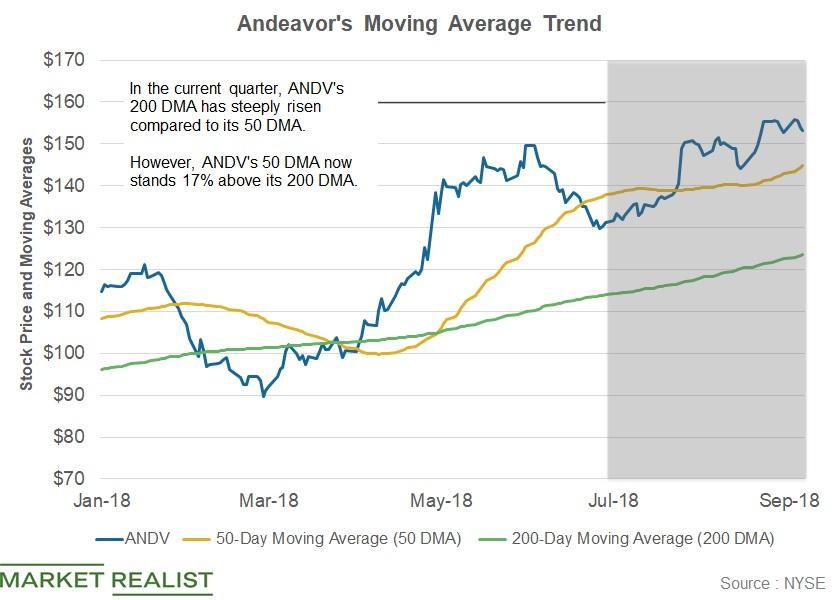 ANDV's 50 DMA Stands 17% above Its 200 DMA
By Maitali Ramkumar

Sep. 13 2018, Updated 4:05 p.m. ET
Andeavor's moving averages before Q3 2018
In this part, we'll look at Andeavor's (ANDV) moving averages trend in 2018. In the first quarter, ANDV stock fell in line with the markets, which slumped in February. ANDV's 50 DMA broke below its 200 DMA at the end of the first quarter.
The situation reversed in the second quarter as ANDV stock rose steeply due to its acquisition announcement, better-than-expected first-quarter earnings, and stronger refining conditions. This led to a rise in its 50 DMA, which crossed over its 200 DMA.
Article continues below advertisement
ANDV's moving averages in the third quarter
In the third quarter, Andeavor stock has continued its uptrend and has risen 16.0%, which we discussed in the previous part. In the quarter, ANDV's 200 DMA has risen more steeply than its 50 DMA, narrowing the gap between both DMAs. ANDV's 50 DMA, which stood 21.0% above its 200 DMA at the beginning of the third quarter, now stands 17.0% above its 200 DMA.
Despite the narrowing of the gap, ANDV's 50 DMA still stands above its 200 DMA—a technically favorable sign. With this wide gap of 17.0% between ANDV's DMAs, the fear of its 50 DMA breaking below its 200 DMA in the immediate future is almost nonexistent. If a stock's 50 DMA breaks below its 200 DMA, it's considered a technically bearish sign. This could imply that ANDV stock isn't close to the bearish zone.