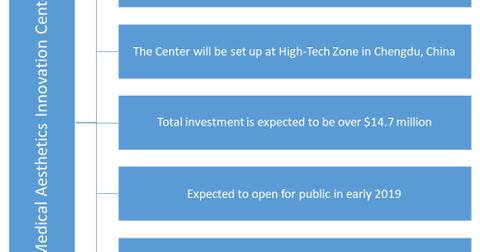 Allergan's First Medical Aesthetics Innovation Center in China
By Mike Benson

Updated
About the announcement
Allergan (AGN) announced on September 19 that it plans to build its first Medical Aesthetics Innovation Center in the High-Tech Industrial Development Zone in Chengdu, China. The center is expected to be operational in early 2019, and the chart below highlights its key features.
Article continues below advertisement
About the Center
The Medical Aesthetics and Innovation Center is expected to have a sophisticated training center for healthcare professionals in the medical aesthetics field. For its medical aesthetics customers, the Center plans to feature an education and product experience space.
The total investment in the Center is ~$14.7 million, and the facility plans to provide training to more than 3,000 medical aesthetics professionals. The facility is expected to be open to the public in early 2019.
The Center plans to offer its Chinese customers an opportunity to experience Allergan's medical aesthetics products and treatments. The Innovation Center is expected to improve the consultation and treatment skills of the medical aesthetics professionals in China, providing them with Allergan's resources and clinical experience.
According to Deloitte's China Medical Aesthetics Market Analysis 2017 report, the Chinese medical aesthetics market is expected to reach ~$13.6 billion in 2018. This market's average growth rate is expected to be 22.7% from 2015 to 2020. The company also plans to set up the Allergan China Western Operation Center in Chengdu.
The First Trust NASDAQ Pharmaceuticals ETF (FTXH) holds 4.6% in Allergan (AGN), 8.3% in Merck & Co. (MRK), 8.7% in Pfizer (PFE), and 4.3% in Johnson & Johnson (JNJ).