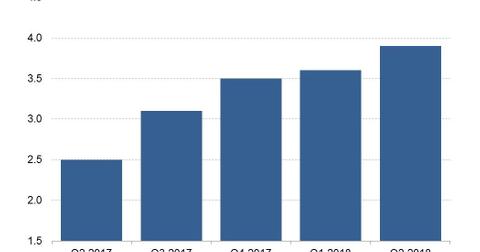 A Look at Baidu's Efforts toward Globalization
By Neha Gupta

Updated
Baidu is taking driverless buses to Japan
If providing online search services made Alphabet's (GOOGL) Google a global technology giant, it's developing vehicles that are capable of driving themselves that could boost Baidu (BIDU) to the same position.
Baidu is undergoing the production of a shuttle bus capable of driving itself. More than 100 units of the Baidu driverless shuttle bus have been produced, and they will begin operation in China this year. Baidu is planning to introduce its driverless shuttle buses in Japan as early as next year.
Article continues below advertisement
Baidu and Wabco join forces
As part of its efforts to bring its autonomous driving technology to more countries, Baidu recently partnered with Wabco to collaborate in creating autonomous driving solutions that can be deployed in commercial vehicles. Wabco is an American company with a global footprint. Its specialty is providing solutions that improve the safety and efficiency of commercial vehicles. The company has been around since 1869 and has a presence in over 40 countries. It generated revenue of $3.3 billion last year.
In addition to Wabco, Baidu counts multinationals Microsoft (MSFT) and Intel (INTC) among its peers in the autonomous driving space. Baidu's focus is on building an open platform for driverless vehicles. Revenues rose 17.5% YoY (year-over-year) at Microsoft and 14.9% YoY at Intel in the second quarter. Baidu's revenue rose 32% YoY to $3.9 billion and yielded a profit of $967 million in the same period.
The driverless race
In its efforts to develop autonomous driving systems, Baidu is in a race with Google's Waymo and Yandex (YNDX). Waymo is undergoing preparations to launch an app-based taxi service that uses driverless vehicles. Yandex has recently started moving people around in driverless cars in a small Russian city, becoming the first company to launch driverless taxi services in Europe.