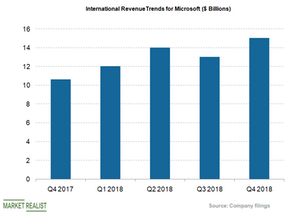 Why Microsoft Is Opening More Data Centers in Asia
By Aaron Hemsworth

Updated
Reason for data center growth in Asia
Microsoft's (MSFT) international market share is driven by significant demand for cloud computing technology. In June, the company opened two new cloud operations in China. It partnered with InMobi in India for a new cloud-based enterprise platform for users. The company has also set up Microsoft Cloud data centers in Abu Dhabi and Dubai.
In March, Microsoft and Adobe (ADBE) entered into a global agreement to provide personalized service to all customer touchpoints in China.
The demand for cloud services is growing in the Asian region, buoyed by the proliferation of smartphones and high-speed Internet service. The demand for data may increase due to the growing usage of low-cost, data-intensive video streaming services. 
Netflix (NFLX) has already penetrated highly populated countries such as India, Korea, and Thailand. This trend has led to more demand for data centers in the Asian region.
According to PWC, the Asia-Pacific data center market is expected to expand by 27.0% per year from 2018 to 2021. The ongoing migration of workloads and applications from on-premise infrastructure to the cloud may boost cloud demand in Asia.
Article continues below advertisement
International market growth
The implementation of the GDPR (General Data Protection Regulation) policy in Europe at the end of May may also drive demand for a secure cloud platform in the region. Microsoft's international business, which contributes ~50.0% of its total revenues, has displayed an improving trend in the past five quarters.
During this period, Microsoft's international business grew at a CAGR (compound annual growth rate) of 9.1%, which is quite high compared to its domestic CAGR growth of 1.1%. In the graph above, we can see Microsoft's international business growth in the last five quarters.
Microsoft exited the fiscal fourth quarter with ~$15.0 billion in revenues, up 41.5% YoY (year-over-year). In the quarter, its revenues from the US region rose only 4.5% YoY.