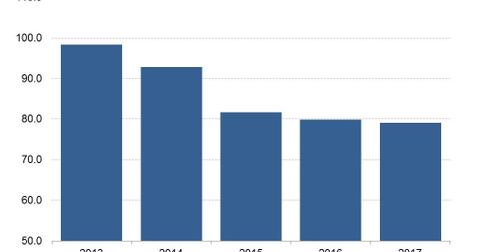 Why IBM Built a Blockchain Platform for Banks
By Ruchi Gupta

Updated
Blockchain platform for banks
IBM (IBM) has created a blockchain platform for the financial services sector. About nine financial services companies, including Citigroup (C), are involved in IBM's blockchain platform project. Financial service companies are looking to blockchain to increase efficiency and possibly cut costs in their daily operations such as processing loans and settling trades.
Citigroup's second-quarter revenues rose 2.7% YoY (year-over-year) to $16.7 billion, yielding a profit of $4.5 billion.
Article continues below advertisement
IBM betting on newer businesses to drive growth
IBM's platform is designed to be a one-stop shop for blockchain-based applications for banks and other financial institutions. Blockchain is the technology that most cryptocurrencies, such as bitcoin, are based on.
For IBM, building blockchain platforms is part of the company's efforts to stimulate growth by focusing on new business areas. These new business areas include cloud computing, where it ranks among the world's top five vendors.
IBM's revenues jumped nearly 4.0%
Despite a new Synergy Research study showing that Alibaba (BABA) hasn't grown its global cloud market share for some time, IBM has continued to grow its top line. The second-quarter results reported last month marked the third consecutive quarter of revenue growth at IBM. The company's revenues have been falling since 2013, as illustrated above.
IBM's second-quarter revenues jumped 3.7% YoY to $20.0 billion. Revenues rose 29.0% at Microsoft (MSFT) and 39.3% at Amazon (AMZN) in that period. Amazon and Microsoft are the world's largest and second-largest cloud vendors.